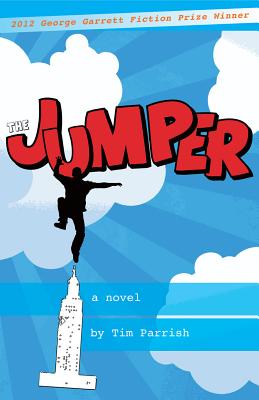 The Jumper
Paperback

* Individual store prices may vary.
Description
The Jumper is an old-fashioned, modern novel both dark and funny. Its central character, Jimmy Strawhorn, grows up on a ranch in West Texas thinking he's an orphan but is summoned to Baton Rouge, where he discovers his past is stranger than he can imagine.

Jimmy tries to navigate his urge to jump from high places, his fear of falling in love, and a complex family history full of deceit and racial ambiguity. At the same time, two other eccentric main characters, named Sandra and J. T., deal with dangerous pasts and presents of their own as Jimmy's arrival alters their lives.

Winner of the 2012 George Garrett Prize for Fiction


Praise For The Jumper…
"Parrish's The Jumper is a novel so shockingly good that readers will abandon their favorite authors (if he's not already one of them) and rush to read all his work. With a linguistic scalpel sharper than Cormac McCarthy, an understanding of the human condition akin to Steinbeck, and an ear better than Erskine Caldwell, Parrish has written a novel of such force and magnitude that he's entered the constellation of American literary stars. You might be able to say there are authors as good as him, but you can't say there are any better."—Eric Miles Williamson, author of East Bay Grease, judge of the 2012 George Garrett Prize for Fiction


"Set amidst North Baton Rouge's inferno of industries and refineries, smack in the middle of low-rent crime and violence—The Jumper is a fast-paced and gritty tale about characters who'd intimidate the thugs of a 1930s hard-boiled novel.  Parrish's visceral yet lyrical prose, his structuring of fictional time, and his clear moral vision transform these tough-guy elements into an experience somehow luminescent, emotionally disturbing, and completely uplifting.—Allen Wier, author of Tehano


"The people in Parrish's riveting novel The Jumper have fallen on hard times. Fierce people living hardscrabble lives, victims of bad judgment or bad luck or bad choices, they have all come to a jumping-off point. Facing violence and impelled by passionate and reluctant love, they are forced to make decisions that will redefine them. Parrish illuminates these lives with ferocious energy, exacting vision, and a deep, rueful understanding of the ways we first damage, and then save ourselves.—Erin McGraw, author of The Seamstress of Hollywood Boulevard

Texas Review Press, 9781937875282, 296pp.
Publication Date: October 1, 2013
About the Author
TIM PARRISH is the author of Fear and What Follows: The Violent Education of a Christian Racist and of the story collection Red Stick Men. A native of Baton Rouge, Louisiana, he lives in New Haven, Connecticut, where he teaches fiction writing in the MFA and undergraduate programs at Southern Connecticut State University.

or
Not Currently Available for Direct Purchase