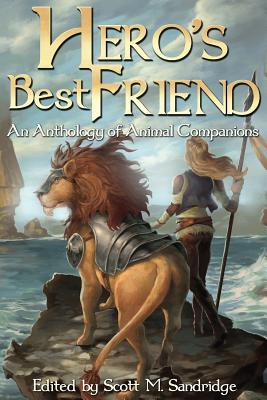 Hero's Best Friend (Paperback)
An Anthology of Animal Companions
Seventh Star Press, LLC, 9781937929510, 472pp.
Publication Date: February 12, 2014
* Individual store prices may vary.
Description
How far would Gandalf have gotten without Shadowfax? Where would the Vault Dweller be without Dogmeat? And could the Beastmaster been the Beastmaster without his fuzzy allies? Animal companions are more than just sidekicks. Animals can be heroes, too Found within are twenty stories of heroic action that focuses on the furries and scalies who have long been the unsung heroes pulling their foolish human buddies out of the fire, and often at great sacrifice-from authors both established and new, including Frank Creed, S. H. Roddey, and Steven S. Long. Whether you're a fan of Epic Fantasy, Sword & Sorcery, Science Fiction, or just animal stories in general, this is the anthology for you So sit back, kick your feet up, and find out what it truly means to be the Hero's Best Friend. Featured in Hero's Best Friend: An Anthology of Animal Companions: Joy Ward: "Toby and Steve Save the World" Frank Creed: "Dusk" Cassie Schau: "The Hunter's Boy" Steven Donahue: "Grit" Jason Cordova: "Hill 142" Herika R. Raymer: "Dook.." Essel Pratt: "Brothers." Lisa Hawkridge: "Ezra's Girl." S. H. Roddey: "Look What the Cat Dragged In." Steven S. Long: "The Wolf Sentinel" Laura Anne Ewald: "Memorandum" Cindy Koepp: "The Hat." Ian Hunter: "Scarheid in the Glisting." Steven Grassie: "The Masterless." David Wright: "Wind of Change" Renee Carter Hall: "The Emerald Mage.." Nick Bryan: "The Violet Curse.." Lillian Csernica & Kevin Andrew Murphy: "The Restless Armadillo." Douglas J. Ogurek: "Stuck on the Squigglybounce" Sheila Deeth: "Passage" Show less.