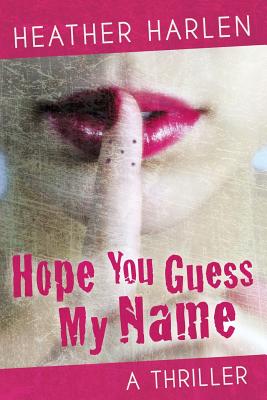 Hope You Guess My Name (Paperback)
Northampton House, 9781937997533, 228pp.
Publication Date: November 15, 2014
Description
"Ms. Harlen captures the heartbeat (and cholesterol) of Northeastern Pennsylvania in her expertly plotted thriller. I loved the reluctant gumshoe-spunky and fallible Marina Konyeshna-with her weakness for pocketbooks and shoes, and went to sleep wondering what on earth she could get herself-and her family and friends-into next." - Sara Pritchard, author of Help Wanted: Female "A thriller novel unlike any other ... with healthy doses of humor, which also makes it a good choice for a vacation read." - The Citizens' Voice, Wilkes-Barre, Pa. There's no place like home...especially when it's the center of a horrific criminal enterprise. Event planner Marina Konyeshna is a tomboy in peep toe pumps who can plan both elegant soirees and adrenaline-pumping skydiving birthday parties. Unfortunately, her quarter-life crisis is in full swing: she's crashing on the sofa bed in her mom's basement, her career at Prestige Events is veering toward disaster and her Adderall prescription needs to be refilled. To make matters worse, Marina witnesses a terrifying assault behind a bar, and discovers the body of a young girl on the banks of the Susquehanna River. It's soon clear the two events are related, but she's forced into silence by the thugs responsible. Enter a mysterious and gorgeous client from Turkey. Arman Ocalan, a wealthy construction company owner, takes Marina out on a date and sparks fly; but Marina's boss's boyfriend warns her to stay away from Arman and his "connections," leaving her confused. When Arman invites Marina to form a team for an elite geocaching event, she can't pass up the prize money. . But as the competition unfolds through the backwoods, abandoned mines, and culm heaps of rustbelt Pennsylvania, Marina discovers the link between her client and the murdered girl ... and realizes what will happen if their team doesn't win. If plucky heroines had their own secret society, Marina Konyeshna, Stephanie Plum and Bridget Jones would all know the handshake.
About the Author
Heather Harlen grew up in Northeastern Pennsylvania on a steady diet of Three Investigators, Choose Your Own Adventure and Little House on the Prairie books. Her own adventures in a dozen countries, including studying in Spain and living in Moscow, Russia as a Peace Corps volunteer, are endless sources of inspiration. She earned her B.A. in English and her teaching certification from Muhlenberg College and an M.A. in creative writing from Wilkes University. She is proud to be a National Writing Project Fellow and co-authored first book, A TEACHER, CAROL, with three colleagues from the Penn State Lehigh Valley Writing Project in 2012. Her current obsessions include zombies, Mad Men and trying foods made on Top Chef. Heather and her husband live near Allentown, PA where she teaches English in an urban middle school. Email: heatherharlen@gmail.com Twitter @harlenwrites Facebook: Heather Harlen, Author
Advertisement