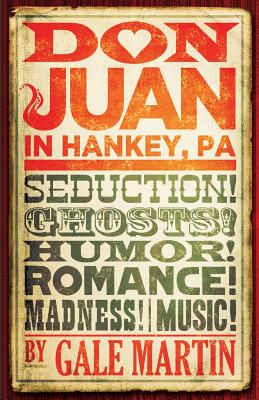 Don Juan in Hankey, Pa (Paperback)
Northampton House, 9781937997717, 306pp.
Publication Date: August 15, 2016
* Individual store prices may vary.
Description
Peek beneath the surface of an extraordinary small-town opera company, and get to know a fabulous cast of characters: determined flirts, a lusty singing gaucho, ingenious manipulators, a bipolar ketchup heiress, devious lovers, and some very determined ghosts. Delve into high society in Hankey, Pennsylvania-a world of simmering seductions, convoluted mysteries and entertaining intrigues. You may laugh out loud. You may cheer for the gang of misfits trying to save their opera house from foreclosure by improbably staging a world-class production of Mozart's masterpiece. You may feel a tug at your heartstrings as lonely lovers look for new romance. Gale Martin's new novel will delight readers everywhere, opera lovers or not.
About the Author
Gale Martin's work has appeared in The Christian Science Monitor, Duck & Herring Company's Pocket Field Guide, and The Giggle Water Review as well as in several anthologies. Recent accolades include first-place in short fiction from the 2009 Writers-Editors International and Scratch writing competitions and a Pushcart Prize nomination. Gale has a Master of Arts in Creative Writing from Wilkes University. She lives in Lancaster County, Pennsylvania, which serves as a rich source of inspiration for her writing. Gale is an accredited reviewer for Bachtrack, an online site featuring classical performance, and she hosts "Operatoonity.com," a blog about opera, at http: //operatoonity.com.