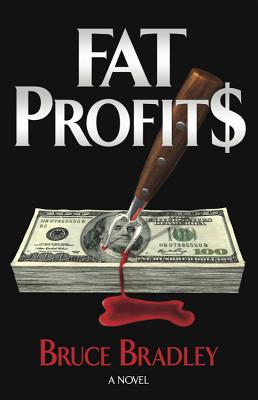 Fat Profit$ (Hardcover)
Howling Hound Press, 9781938053078, 337pp.
Publication Date: August 6, 2012
* Individual store prices may vary.
Description
Is the food we eat safe? Andrew Hastings thought so. But after watching several of his co-workers die, he's not sure of anything anymore.
Desparate to climb the corporate ladder, Andrew works tirelessly to launch B-Lean, International Food & Milling's revolutionary, new weight-loss product. But when a colleague leaves him a cryptic voicemail just minutes before her tragic death, Andrew starts asking questions that lead him down a deadly trail of corporate deceit. As the death toll rises, Andrew realizes he's the next target, and he goes on the run to uncover the truth and save his family.
Showcasing an extraordinary blend of action and suspense with an insider's firsthand expertise of the food industry, Bruce Bradley's debut novel is a heart-pounding thrill ride reminiscent of Michael Crichton's finest work. Wrapped in a story of corporate and political misdeeds that's all too common in today's headlines, Fat Profits will have you glued to your seat until the very last page.
About the Author
Bruce Bradley worked for over fifteen years in Corporate America at companies like General Mills, Pillsbury, and Nabisco. Leveraging his business experience and lifelong passion for writing, Bruce Bradley's specialty is crafting heart-pounding thrillers where corporate greed and personal integrity square off, leaving a trail of murder and corruption in their wake.

Bruce Bradley is also active in the national media. He has been interviewed on CNN, and has written or contributed to various articles for Men's Health, Prevention, The Huffington Post, Organic Gardening, Rodale, and Grist. In his free time he also blogs at brucebradley.com and revels the tricks, traps, and tools Big Food marketers use to get us eating more processed foods.

Born and raised in Ft. Lauderdale, Florida, Bruce now lives in Minneapolis, Minnesota, with his son, Ben, and their beloved dog, Katie.
Praise For Fat Profit$…
"For a delicious read, dive into the ins and outs of the food industry with Bradley's thriller, FAT PROFITS. In his debut novel, the onetime General Mills marketer offers a look 'behind the shelves' of a chillingly corrupt, fictitious food company." -- Minnesota Monthly

"A great page-turner!" -- Yoni Freedhoff, M.D., U.S. News contributor and award-winning blogger at Weighty Matters

"FAT PROFITS is a fun, suspenseful thriller about a massive food company that will stop at nothing, not even murder, to achieve the holy grail of processed foods: a weight-control additive." -- Michele Simon, Huffington Post contributor and president of Eat Drink Politics

FAT PROFITS "tells the tale of multiple murders and intrigue to raise the stakes in this suspenseful tale of common man vs. corporate evil." -- Foodday.org
or
Not Currently Available for Direct Purchase