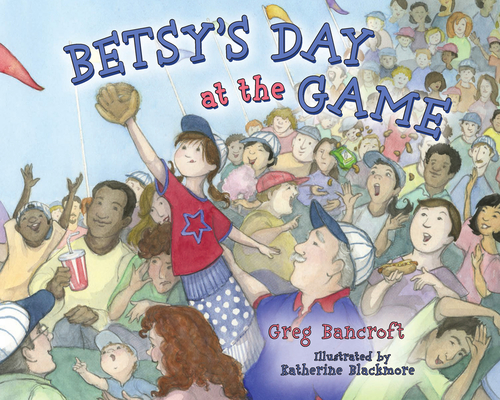 Betsy's Day at the Game (Paperback)
Mighty Media Kids, 9781938063015, 34pp.
Publication Date: April 16, 2013
* Individual store prices may vary.
Description
Betsy loves hanging out with her grandfather, especially at the ballpark. Today is another game day, and Betsy is ready to show her grandpa all she's learned about keeping score. Some exciting things are about to happen at today's game. As the anticipation builds, Betsy keeps track of it all -- foul balls, home runs, and favorite players. This heartwarming story about a family tradition and America's favorite pastime includes a full scorecard. With great illustrations, Betsy's Day at the Game teaches kids how to fill out a scorecard, and encourages them to share their memories with their families.

About the Author
Gregory Bancroft's first published children's book is a result of telling stories to children and grandchildren for more than 30 years. An avid baseball fan, he shares an experience of going to a game that mirrors his own time spent with kids at a ballpark. Growing up in a small town in Minnesota, Bancroft and his friends spent a lot of time outdoors. They played baseball nearly every day in the summer. Over the years, he has followed teams in parts of the country where he and his family have lived. He holds degrees from the University of Minnesota, Yale, and Luther Seminary. His professional career spans non-profit organizations and business enterprises across many states. Writing, telling stories, and engaging young minds have been central to his personal interactions for decades. He and his wife live in Minneapolis near Lake Nokomis, while his children and grandchildren are scattered across the country. Katherine Blackmore is one of eleven siblings, born and raised in Cleveland, OH. With a BFA in Illustration from the Cleveland Institute of Art, she has been a professional artist for 20 years. She started out working for American Greetings, designing and creating cards and holiday products. She moved to Florida in 1995 to learn traditional animation at The Walt Disney Feature Animation Studio, and was a Clean-up Animator there for eight years. Her screen credits include: The Hunchback of Notre Dame, Mulan, Tarzan, Lilo & Stitch, and Brother Bear. Throughout her career, she has been an educator as well; she has taught figure drawing and various art classes to students of all ages. She currently teaches 2d animation at a university in Orlando. Blackmore's true love in art is drawing, but she also paints, does collage, and photography; she has numerous hobbies and especially enjoys reading, gardening, traveling, yoga, and hang gliding. She resides in Edgewood, FL, with her husband and their 3 cats.
Praise For Betsy's Day at the Game…
Mom's Choice Gold Award Winner

"A touching tale about the magic of baseball lore and moreover, family love." — Peter J. Schwartz, journalist and co-author of Baseball as a Road to God: Seeing Beyond the Game

"An entertaining book about baseball and passing traditions down through generations." Penny Marshall, actress, film director, and producer

Betsy's Day at the Game is a sweet story about family tradition and the art of keeping score." Kurtis Scaletta, author of Mudville and The Topps League series

"This book celebrates the ways baseball is passed down through generations. Young fans will connect with Betsy and also learn how to keep score." John Coy, author of Top of the Order and the 4 for 4 series

"Greg Bancroft has written a sweet story of family bonding built around a baseball game, but with a bonus of teaching youngsters how to score a game. There is an extra section in the back with rules for scoring, symbols, and examples. Katherine Blackmore's charming illustrations complete this story nicely." San Francisco/Sacramento Book Review

"...a warm and comfortable setting with familiar and likeable characters ... It is very apparent that Mr. Bancroft loves baseball and children and this story combines both nicely. ...sit beside this family and feel the excitement, smell the grass, hear the noise, and share the family traditions that have developed around baseball from the easy banter between the two main characters to the discussion of how to keep the scorecard." Compass Book Ratings

"Betsy's Day at the Game is first a sweet story about two generations enjoying each other's company, and then it is a baseball-scoring lesson. Because of thisboth entertaining and educationalI think boys and girls will like Betsy's Day at the Game, which is best read with a parent or grandparent." Kid Lit Reviews (blog)

"The book captures all there is to love about baseball, and that's because author Greg Bancroft seems to be a baseball fan first and foremost. His descriptions and Katherine Blackmore's images capture the sights, sounds, smells, and (my favorite part) tastes of the ballpark. Via their narrative, we spend a day vicariously at the park... Betsy's Day at the Game would definitely score a home run with any young baseball fan." Teach with Picture Books (blog)

"...a wonderful look into the value of traditions within our families as well as a great introduction to baseball for young readers. ...This is not only a fun tale of baseball excitement, but also a great lesson to all who read it to start or continue their own family's traditions." There's a Book (blog)

"A big part of this little book is learning to record and keep score during a baseball game. I found this an interesting concept and one that will appeal to many folks. I found the illustrations lovely and the characters pictured filled with passion for the game." Chat with Vera (blog)

Baseball America 2013 Baseball Book List - Children's Books


"Betsy's Day at the Game is a sweet story about family tradition and the art of keeping score." Kurtis Scaletta, author of Mudville and the Topps League series
or
Not Currently Available for Direct Purchase