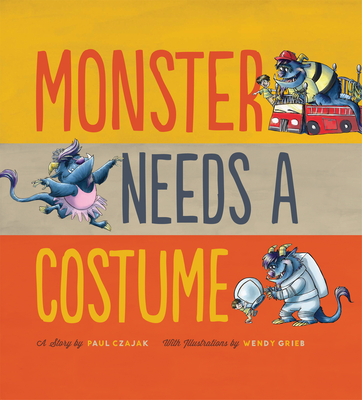 Monster Needs a Costume (Monster & Me) (Hardcover)
Mighty Media Kids, 9781938063091, 32pp.
Publication Date: September 3, 2013
* Individual store prices may vary.
Description
It's almost Halloween, and Monster needs to decide what he's going to be. With so many options -- a fireman, a ballerina, a cowboy, a ninja--how will he ever decide? In this playful, rhyming story, Monster shows young readers that sometimes being creative and daring to try something new are the best solutions.

About the Author
Paul Czajak got an F with the words "get a tutor" on his college writing paper and, after that, he never thought he'd become a writer. But after spending twenty years as a chemist, he knew his creativity could no longer be contained. Paul lives in New Jersey with his wife and two little monsters. In addition to the Monster & Me(TM) series, he's also the author of Seaver the Weaver, a contributor to The Huffington Post, and a reviewer for The New York Journal of Books. Wendy Grieb is a professional working in the Los Angeles animation industry and teaching animation. She is also an Annie Award-winning storyboard artist, who has worked as a developmental artist, illustrator, and character designer for companies such as Disney, Nickelodeon, Sony, Klasky-Csupo, White Wolf, and more. She lives in Yorba Linda, California.
Praise For Monster Needs a Costume (Monster & Me)…
Monster Needs a Costume is a Mom's Choice Awards® Gold Recipient

"Czajak tells the story in rollicking verse that propels readers through a trial-and-error process. ...Kids will grin at the huge 20-gallon hat, the exhausting dance moves and Monster's complete incompetence at stealth. ...Given the jaunty flow of the story and the humorous details on every page, put this at the top of the list for unscary options come October. " Kirkus Reviews

"First-timers Czajak and Grieb pair up for a gently funny story about a boy and his furry blue monster ...Czajak's rhymes give the story energy and humor, as do Grieb's digital caricatures, which emphasize the comedy of Monster's cowboy ambitions and attempts to be a stealthy ninjanot easy when he's nearly nine feet tall." Outside-the-box thinkers should enjoy the lighthearted ending, as Monster proves that sometimes one costume isn't enough." Publishers Weekly

"The rhymes, quite obviously, are bouncy and irreverent, and just as much heck is raised by Grieb's cartoony illustrations of the enormous, blue, horned beast with the happy underbite as he cavorts around the home before dropping from exhaustion." Booklist

"A minimum of text combined with lively illustrations with a lot of detail make this a winner for the little ones." St. Paul Pioneer Press

Selected for The Children's Book Review 2013 Halloween Picture Book List

"The bouncy rhymes and childlike enthusiasm of the monster in this storyplus his silly ultimate costume decisionare sure to get young kids giggling." Brian Lies, author of Bats at the Ball Game

"Czajak combines poetic rhythm, masterful rhyme, and a humorous story along with illustrator Wendy Grieb's gorgeous drawings that give Monster the perfect emotional touch." Off the Library Shelf, Picture Book of the Week 10/25/13

"This is truly one of the most beautiful books for children I have seen in a long time. ...The book is beautifully written in rhyme and is the absolute perfect story for your own monsters this Halloween." Lil' Blonde Monsters (blog)

"This is a great story that will make kids laugh and get excited to try on their own costumes..." The Family That Reads Together

"...this empowering romp shows kids that it's okay to try something new, different and exciting." Red Tricycle, Halloween Book List

"The illustrations in this snappy story told in rhyme are guaranteed to tickle your funny bone as monster considers his choices...Little monsters everywhere will delight in this Halloween story." Feed a Reader, Kirkwood Public Library blog

"Looking at his face I can tell, Monster will be that all-around good friend you can pick up and read whenever you are lonely or simply alone." Kid Lit Reviews

"This awesome Halloween picture book is cute, clever and the illustrations are fantastic. This is a monster I want to hug, and you will want to hug him too." Smart Books for Smart Kids


"The bouncy rhymes and childlike enthusiasm of the monster in this story plus his silly ultimate costume decision are sure to get young kids giggling." Brian Lies, author of Bats at the Ball Game
Book Videos
or
Not Currently Available for Direct Purchase