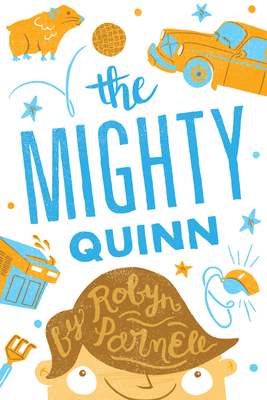 The Mighty Quinn (Paperback)
Mighty Media Junior Readers, 9781938063107, 263pp.
Publication Date: May 14, 2013
* Individual store prices may vary.
Description
Quinn Andrews-Lee feels anything but mighty, and faces a dismal school year. His little sister outshines him athletically and socially, he yearns for a service award his peers disdain, and charismatic bigot Matt Barker's goal in life is to torment Quinn and lure his friends to the dark side. When Quinn reports an act of vandalism, he is accused of injuring Matt. Neally Standwell, a free-spirited new kid in Quinn's class, helps Quinn deduce who hurt Matt, but Matt would probably die--and would definitely lie--before admitting the truth. Through events comical and poignant Quinn and Neally solve the right mystery just as everything seems to go wrong, thwart a bully without becoming one in turn, and realize that the fabled ability to belch the entire alphabet might very possibly trump any award ever presented at Turner Creek School.
About the Author
Robyn Parnell's country/western-flavored song, "If You Can't Live Without Me Then Why Aren't You Dead?" mercifully remains unpublished and unrecorded; nevertheless, her fiction, essays and poems have appeared in ninety books, magazines, anthologies and journals. Publishing credits include her book of short fiction, "This Here and Now," a children's picture book, "My Closet Threw a Party," and now the middle-grade novel, "The Mighty Quinn."

Parnell is the second of four children and the middle daughter, which means she is destined for either ground-breaking gender role usurpations or middle management in Tupperware(R) sales. She lives and writes in Hillsboro, Oregon, (city motto: "Yeah, we're not Portland, but at least we're not Oxnard."), sharing her life with one husband, two children, four cats, one bearded dragon, one corn snake, one ball python, one goldfish and innumerable dust bunnies.

Katie and Aaron DeYoe met while studying graphic design at the Minneapolis College of Art and Design. Though they are both full-time graphic designers, they spend most of their free time drawing, doodling, painting and printing. They also enjoy riding their serendipitously matching red Schwinns around Minneapolis.
Praise For The Mighty Quinn…
"Bullying, competition, hot and cold friendships, male and female peer role models, and comic relief are just a few of the 10 year old issues presented in the fun and fast moving plot pages for this humorous chapter book. Comic black and white illustrations decorate chapter beginnings and endings, and a comic portrait gallery of the cast of characters aids in fast comprehension. ...A suspenseful plot and precise sleuthing sells the story and teaches that Turner Creek School rocks and so does The Mighty Quinn!" Midwest Book Review

"An absolutely delightful read and such memorable characters! Tweens will identify with both Quinn and Neally and will still be thinking about them long after they close the book." Sandra McLeod Humphrey, Retired Clinical Psychologist and Children's Author

"This novel tackles important issues such as bullying, being the ESL student, caring for the environment, and tolerance that would offer a starting point for greater discussions in the classroom. The author provides discussion questions and ideas for extension activities to go along with the themes of this book." Reading Today Online

"For her first middle-grade novel, set in Hillsboro, Ore., where she lives, Parnell creates interesting child and adult characters and confronts them with serious issues, including child abuse, care for the environment, ethics and even skin color. ...it will certainly provide food for thought. ...one of the few books for the audience that discusses the possibility of not practicing a religion. (Fiction. 9-12)" Kirkus Reviews

"...Parnell neatly weaves ideas about social justice and acceptance into her first middle-grade novel. Neally is a shade too confident to be believed, but her lack of conformity and faith in her own beliefs are welcome. The DeYoes' cartoon spot illustrations bring a cheerful touch to this thought-provoking read." Publishers Weekly

"The themes touch on bullying, tolerance, and conservation, but the most engaging element of the novel is its characters. If you have experienced the fifth grade in any way, i.e., student, parent, grandparent, or teacher, you will recognize all the signs of that age group in the book's characters. ...Young readers of The Mighty Quinn will enjoy the drama, the victories, the humor, and the surprising conclusion. Adults will applaud the themes that are so timely in every American classroom." Compass Book Ratings

"Mom was excited to hear about this book that tackles such an important issue in a light-hearted way. Bullies are a big issue for kids, and they can use all the help they can get to deal with bullying behavior AND avoid being the bully." MommySecrets blog (a kid's perspective)

"The Mighty Quinn by Robyn Parnell is a delightful story of life in the fifth grade. ...filled with great questions at the end to help facilitate discussion of some very relevant topics for fifth graders to think about and talk over." — Reader's Haven Reviews

"An absolutely delightful read and such memorable characters! Tweens will identify with both Quinn and Neally and will still be thinking about them long after they close the book." Sandra McLeod Humphrey, author of Dare to Dream!