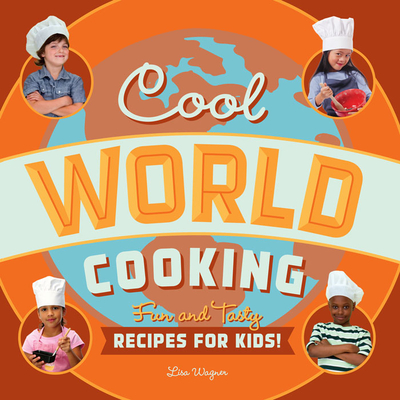 Cool World Cooking (Paperback)
Fun and Tasty Recipes for Kids!
Mighty Media Junior Readers, 9781938063121, 144pp.
Publication Date: July 9, 2013
* Individual store prices may vary.
Description
Give up-and-coming chefs a chance to explore the foods of the world This international cookbook has over 50 recipes from 6 different cultures and introduces readers to world geography and authentic, easy-to-make recipes that taste great. Learn about African, French, Italian, Mexican, Middle Eastern, and Japanese and Chinese cooking. Each kid-tested recipe includes step-by-step instructions and how-to photos. Tools and ingredients lists are also provided, along with pronunciation guides when needed. So grab an apron and prepare for a tasty adventure Books include: ingredients and tool lists, visual index of cooking terms, world map with highlighted areas, step-by-step instructions and photos, and allergy and safety information.
About the Author
Lisa Wagner is a freelance writer, graphic designer, and creative consultant who loves to cook, eat great food, travel, and listen to music. She worked extensively in the travel industry marketing and creating promotional material for various northern resorts, which included writing about food. She is the founder of the Books In the Woods program and also conducts walking and historical tours in the Twin Cities. She loves to cook with fresh, local, and organically grown ingredients. In the summer she grows many of her own vegetables and herbs. She lives in Saint Paul, MN, and has two sons, who also love to cook. Dinner is always the highlight of the day; the family cooks together, eats together, and enjoys sharing cooking adventures at home and on the road.
Praise For Cool World Cooking: Fun and Tasty Recipes for Kids!…
Eureka! Gold Winner - 2013 California Reading Association Eureka! Nonfiction Children's Book Awards

ForeWord Reviews Recommended Picture Books Summer 2013

"This culinary tour is informative and fun, and includes tasty recipes from Mexico, France, Italy, Africa, the Middle East, China, and Japan. ...This appealing introductory guidebook to global cuisine earns a place next to Deanna F. Cook and Michael P. Kline's The Kid's Multicultural Cookbook and Matthew Locricchio's The 2nd International Cookbook for Kids. Children will relate to the easy-to-read instructions as well as the photos of their peers from around the world." School Library Journal

"Most kids are excited about the opportunity to learn to cook, but it is often difficult to find kid-friendly recipes that have variety and interest to them. This book is a great answer for those deficits in the world of cooking for kids. ...Kids will enjoy creating their own tasty, healthy dishes. Parents will want to borrow this book for the easy, delicious recipes." City Book Review, 5 Stars

"Experiencing the cuisines of different cultures is fun way to travel around the world and this book is an age-appropriate ticket to Mexico, France, Italy, Africa, the Middle East, China, and Japan. ...With a catchy cover and enticing graphic design, this book keeps things visual with maps, pictures of kids, and photographs that demonstrate the recipe step by step. The little extra bits of information on how food relates to each location really makes this book into a well-rounded cooking adventure." Reading Today Online

"Cool World Cooking: Fun and Tasty Recipes for Kids! is a global collection of over 40 fabulous ethnic recipes from Mexico, France, Italy, Africa, the Middle East, and China and Japan, specially explained and adapted for cooking by kids. Cool World Cooking is a fabulous introduction to global cuisine for kids with adult supervision. " Midwest Book Review

"While it certainly can offer curriculum connections, it also offers a great way to have fun with kids at home." I.N.K blog

"Cool World Cooking teaches children the basics of good cooking, food safety and how to follow instructions. ... Teaching children to cook a wide variety of foods is an invaluable tool that provides them with a lifetime of skills essential for good health and independence. Cool World Cooking is a terrific cookbook for kids, one I highly recommend." — Smart Books for Smart Kids


Previous Single Title Review
"These appealing books provide recipes for children seeking a general idea of a culture's special foods while staying with basic, familiar ingredients and simplified preparation routines." Horn Book Guide


"These are worthy guides for the first few steps around the kitchen. . . . Use these titles to instill a sense of accomplishment and adventure in the kitchen." School Library Journal, Series Made Simple, April 2011
or
Not Currently Available for Direct Purchase