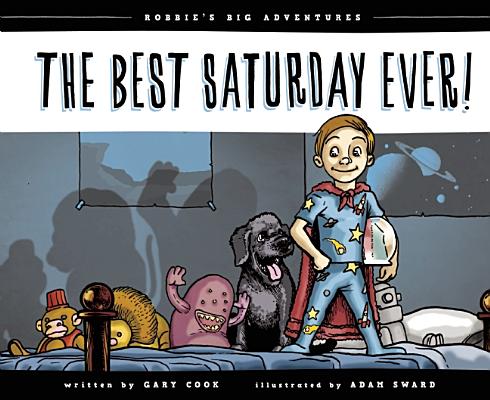 The Best Saturday Ever! (Hardcover)
Mighty Media Press, 9781938063251, 36pp.
Publication Date: September 16, 2013
* Individual store prices may vary.
Description
On a rainy Saturday, the power goes out. With no TV and no chance of going outside, Robbie wonders how he could possibly have fun. Well, he ll just have to make it up Using only his imagination, Robbie manages to save a city from a terrifying monster, captain a space shuttle, and tame a fearsome lion as the ringmaster of a circus. With all these adventures, will he even notice when the rain stops and the lights come back on? Through entertaining rhymes and exciting graphic novel-style illustrations, this book will remind kids of the power of their own imaginations, and prove that rain and a lack of power just might make for THE BEST SATURDAY EVER
About the Author
Gary Cook s first published children s book, The Best Saturday Ever, was inspired by a painting that was purchased at an art fair and is now hanging on the wall over his desk. When he was a child, his father worked as a manufacturer s representative, and their home was filled with his samples of toys, games, and lab sets. All good things to keep an only child busy and spark his imagination and creativity. Gary studied art and music at the University of Minnesota, and photography at the School of Communication Arts. He is a self-employed commercial photographer doing advertising and editorial photography. His images have been printed in publications as diverse as Soldier of Fortune and French Vogue. He also pursues his musical interests as a drummer performing with local bands. Gary and his partner, Amy, live in Bloomington, Minnesota, with their pets, including Sparky the dog. Adam Sward is a Minneapolis-based illustrator and tattooist. He also does graphic design, murals, live art, and some stand-up comedy now and again. He currently lives and works in South Minneapolis, Minnesota, with his dog and an almost alarmingly large collection of misinformation."
Praise For The Best Saturday Ever!…
"The illustrations are bold, dark (as was the grey, stormy day), yet filled with imaginative art. The rhyming text is creative just as the imagination of the boy is for this day throughout which he entertains himself. A book with which imaginative children will identify and which those with little imaginative can gain ideas on how they might entertain themselves on a grey, rainy day." — Reader's Haven Reviews

"The weekend is finally here.
That means no school today!
Hey what's going on?
And why is it so grey?

All week at school,
the sky was so blue.
Now it's my day for fun.
This just can't be true!" from the book
or
Not Currently Available for Direct Purchase