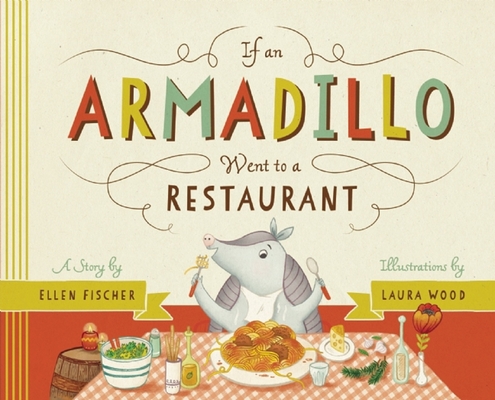 If an Armadillo Went to a Restaurant (Hardcover)
Mighty Media Press, 9781938063398, 26pp.
Publication Date: July 29, 2014
* Individual store prices may vary.
Description
Slurp, munch, crunch Little hands will be turning the page to find out the real meals of animals Would an armadillo order spaghetti with meatballs if she went to a restaurant? No way Through a series of humorous questions and answers, young readers learn about animals, where they live, and what they eat.
About the Author
Ellen Fischer grew up in St. Louis, Missouri, but has been a North Carolina Tar Heel for over thirty years. She has taught elementary age children for over twenty years and is the mother of three. She is also the author of If an Elephant Went to School, Latke, the Lucky Dog, and several Sesame Street books, including Grover and Big Bird's Passover Celebration, It's a Mitzvah, Grover!, and The Count's Hanukkah Countdown. Laura Wood is a freelance illustrator currently living in England. She was born and raised in Italy and received a Bachelor of Cinema and Multimedia. She likes to combine both digital and traditional dry media to create childlike pictures with a sunny style and a folksy feeling. Laura Wood is also the illustrator for If an Elephant Went to a Restaurant, Lucy in the City, and The Cow Tripped Over the Moon.
Praise For If an Armadillo Went to a Restaurant…
"If An Armadillo Went to a Restaurant offers children a funny yet factual taste" of the culinary interests of some of our natural world's most iconic animals. ...From catchy phrasing to kid-cool" illustrations, this is a book that will add smiles to faces and fascinating conversations to meal time." Glenn Dobrogosz, Executive Director, Greensboro Science Center, Zoo and Aquarium

"Yummy and yuckythe perfect formula for young readers to discover what animals eat. Ellen Fischer's imaginative and informative picture book encourages readers to make mealtime connections between humans and a delightful assortment of creatures craving their favorite foods. A masterful menu of humor, fun, and facts!" Betty Hicks, author of The Worm Whisperer

"As a classroom teacher for over 30 years I am delighted to recommend this book with its endless possibilities for vocabulary development and use of descriptive language in addition to the factual knowledge presented. The clever ending offers a springboard for oral language development as well as writing." Ricki Gray, Classroom teacher, Guilford County, NC
or
Not Currently Available for Direct Purchase