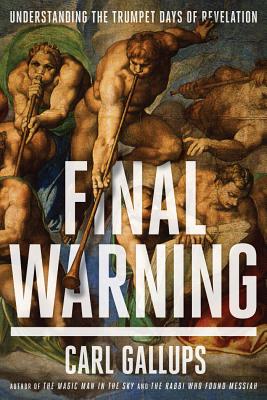 Final Warning
Understanding the Trumpet Days of Revelation
Paperback

* Individual store prices may vary.
Description
Tsunamis, earthquakes, world wars, nuclear disasters, and upheaval in the Middle East – could it be we are living in the final trumpet days of Revelation?
Whether one is a believer or not, the Bible provides many clues about the future of us all. In Final Warning beloved pastor and best-selling author Carl Gallups explores the stunning visions of the Apostle John as found in the seven trumpets of Revelation and overlays them on major events in the 20th and 21st centuries.
How do the two world wars line up with John the Revelator's visions? Could it really be that the Chernobyl meltdown was foretold in the Bible almost two thousand years before it happened? Does the rebirth of Israel indicate the Last Days are upon us? Was the same Apollyon mentioned in "trumpet five" responsible for the darkening of the sky during the Gulf War? Is the United States mentioned in biblical prophecy?
Gallups has scoured historical, military, and journalistic sources to address these questions and more. An incredible journey of contextual biblical understanding and astounding prophetic possibilities await as you discover why today's signs could be the final warning.
Praise For Final Warning: Understanding the Trumpet Days of Revelation…
"If you have a passion to study the subject of the end times, then you will love this book. Carl Gallups is an engaging writer who presents a truly unique perspective. Prepare to be challenged." — New York Times best-selling author of Isamic Antichrist and Mideast Beast

"We need to understand the times more than ever … [and] Final Warning is  quite revelatory … Carl Gallups boldly shares not only God's vision and judgment for all his creation, but His plan that is unfolding today." — Bill Martinez, host of Bill Martinez Live

"Once in a great while a book comes out that has the touch of God upon it to such an extent the reader is forever changed. Final Warning: Understanding The Trumpet Days of Revelation is a must for everyone who is seeking the truth. Pastor Carl Gallups takes a clear look into God's Word. He has done a masterful job in revealing the truth about the end times." — Zev Porat, Messiah of Israel Ministries

"Final Warning provides fresh insights into the book of Revelation. Pastor Carl's extraordinary insight and scholastic documentation of the events of the Book of Revelation educate and astound me. I assure you, the content of Final Warning will educate and amaze you too!" — Dr. Joda Collins, evangelist, pastor, and scholar
WND Books, 9781938067617, 256pp.
Publication Date: February 3, 2015
About the Author
Carl Gallups is a police officer–turned senior pastor of Hickory Hammock Baptist Church in Milton, Florida. Gallups is the author of The Rabbi Who Found Messiah and Magic Man in the Sky, a radio talk show host, a member of the Board of Regents University of Mobile, and the founder of the PPSimmons News and Ministry Network. 
or
Not Currently Available for Direct Purchase