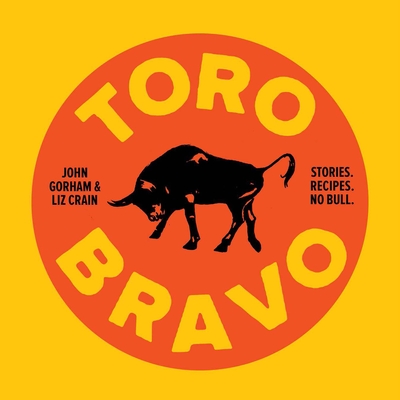 Toro Bravo
Stories. Recipes. No Bull.
Hardcover

* Individual store prices may vary.
Description
At the heart of Portland's red-hot food scene is Toro Bravo, a Spanish-inspired restaurant whose small plates have attracted a fiercely loyal fan base. But to call Toro Bravo a Spanish restaurant doesn't begin to tell the whole story. For chef John Gorham, each dish reflects a time, a place, a moment. For Gorham, food is more than mere sustenance. The Toro Bravo cookbook is an honest look behind the scenes: from Gorham's birth to a teenage mother who struggled with drug addiction, to time spent in his grandfather's crab-shack dance club, to formative visits to Spain, to becoming a father and opening a restaurant. Toro Bravo also includes 95 of the restaurant's recipes, from simple salads to homemade chorizo, along with an array of techniques that will appeal to both the home cook and the most seasoned, forearm-burned chef.
Praise For Toro Bravo: Stories. Recipes. No Bull.…
"Toro Bravo is so much more than a cookbook (though it does a damn fine job of being just that). It's a passionate story of how one great chef found his way by following his heart and trusting his gut. It's a practical guide and a culinary cri de coeur. This is the real deal. It's the book I'm going to press into everyone's hands. I love it like mad." Cheryl Strayed, author of Wild

"John Gorham is a chef with a unique personality; he is magic. In his book Toro Bravo, he puts all his passion and soul into sharing Spanish cuisine with Americans. I'm certain both professional chefs and home cooks will love it." Ferran Adrià, head chef at ElBulli

"You're gonna love this cookbook. Toro Bravo brought something special to Portland when it opened, and still does: easy-to-love, Spanish-style food in a non-fussy atmosphere." Stephen Malkmus

"Here in Portland, Toro Bravo carves an uncommon nichesimultaneously adventurous and comforting. This cookbook, like the restaurant itself, tells the story of one restless spirit's search for home. These are recipes you'll want to both cherish and share." Carrie Brownstein, creator of Portlandia

"John Gorham seemingly mind-reads what we want to eat: comfort and craft popping with salty, sweet, spicy flavors. No one better translates Portland's raging gustatory desires and DIY spirit. This book captures the joy of Toro Bravo; all heart, no bull." Karen Brooks, author of The Mighty Gastropolis

"I've known John Gorham for over a decade, since I first got to town and he turned me down for a job. Since that fateful rainy morning, we've cooked together, confided in each other, commiserated (read: partied) together, and grown up significantly. Toro Bravo is the greatest expression of who John really is: nostalgic, spirited, brutally honest, fun as hell, and one of Portland's all-around-greatest chefs. The Toro Bravo cookbook captures his vision, ferocity, determination, and hilarity." Jason French, chef/owner of Ned Ludd
McSweeney's, 9781938073571, 336pp.
Publication Date: October 15, 2013