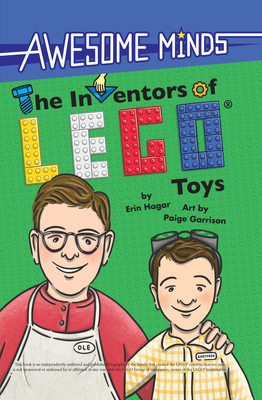 Awesome Minds
The Inventors of LEGO(R) Toys
Hardcover

* Individual store prices may vary.
Description
Everyone has played with LEGO® toys, but not many people know who is behind this awesome invention.
This fun and engaging book tells the story of how a Danish carpenter and his family turned a desperate situation into the most popular toy in history. With full-color illustrations and lively text, and chock-full of interesting facts, Awesome Minds: The Inventors of LEGO® Toys is the perfect read for those with creative spirits and curious minds.
This book is an independently authored and published biography of the family that created the LEGO® construction toy and is not sponsored or endorsed by or affiliated in any way with the LEGO Group of companies, owner of the LEGO® trademarks.
Lexile Level: 970L
Guided Reading Level: R4
Praise For Awesome Minds: The Inventors of LEGO(R) Toys…
Erin Hagar documents the story of the Lego company from its modest beginnings with young Ole Kirk, a shepherd wood carver, who went on to begin his business in carpentry and adjust to toy making following the Great Depression (and several other depressing events in his personal life, including a devastating fire and the loss of his wife and the mother to his four boys). The Lego Company's most well-known creation, the Lego brick, was named the "toy of the century" in 2000. Each event between demonstrates the creativity and problem solving that made the Lego company (and this book) a global success.
Paige Garrison includes blueprints for both factory buildings and the bricks themselves and the visual of Lego bricks wrapping around the world is pretty impressive. The design of the book itself is blocky, utilizing the primary colors so well-known in the Lego system. I'd love to say that I think young readers will love this book, but I can do better. I know it. Because in my library, they already do! A fifth grade student began research in late November for an informational writing piece on the inventors of Lego and his teacher emailed me to see if we might be able to point him in the right direction. Since I had a copy from the publisher, I was able to save the day and deliver just what he needed. This book flew off the shelves before I could even get it on one. Readers and builders young and old will love this story of ingenuity and cutting-edge thinking. —Gary Anderson, writing instructor and kidlit blogger
"The story of Ole Kirk and the LEGO company origins hasn't ever been told with such charm and accessibility as this new book by duopress. . . . The smart writing and wealth of information makes this a very charming book. I'm going to add this to the BrickNerd library. It's that good. I give it 5 out of 5 Nerdlys." —Tommy Williamson, LEGO® artist and founder of BrickNerd (bricknerd.com)
"This book could be the building block for the next great toy inventor." —Ed Sobey, Ph.D., Founder of the National Toy Hall of Fame
"
Awesome Minds: The Inventors of LEGO® Toys
is colorful and engaging, just like LEGO® bricks themselves. Over the course of 48 pages, the book deftly mixes words and a whole host of interesting visuals to tell the origin story of the Danish company behind the iconic toy. Knowing the backstory behind the toy makes you appreciate it in a whole new way." —Todd Coopee, author of
Light Bulb Baking: A History of the Easy-Bake Oven
and Toy Historian
"
The Inventors of LEGO® Toys
is a must read for your child." —Bruce Pascal, author of
Hot Wheels Prototypes
"
The Inventors of LEGO® Toys
, tells the history of this toy in a wonderful way that children of all ages, and even the parents, will not want to put the book down." —Bruce Pascal, author of
Hot Wheels Prototypes
"LEGO® is a part of our everyday world—a huge part, for many families. In clear, accessible text and art, Erin Hagar and Paige Garrison show how the world got to be that way. Their book creates a terrific gateway through which LEGO®-loving kids can journey for a deeper appreciation of the family, company, and history behind their favorite toy." —Chris Barton, Author of
Shark vs. Train
and
Whooosh! Lonnie Johnson's Super-Soaking Stream of Inventions
"Hagar and Garrison explain the Lego backstory to readers who can't envision a time before the interlocking bricks. The beloved toys were the brainchild of a Danish carpenter, Ole Kirk Christiansen, who developed the idea with the help of his son, Godtfred. Hagar describes Christiansen's early attempts to create a toy that would sell big; he even rode the wave of the yo-yo's popularity, which taught him, 'Don't worry about what's popular. Instead, make good toys that give kids new ways to play.' As the manufacturing of plastic expanded, Christiansen bought an injection-molding machine for his burgeoning toy company in 1947 and began making prototypes of the now-iconic plastic bricks. Hagar's conversational narration and an early reader-esque format, augmented by sidebars and Garrison's efficient cartooning, should make the book particularly appealing to newly independent readers—and Lego devotees, of course." —
Publishers Weekly
duopress, 9781938093531, 48pp.
Publication Date: April 12, 2016
About the Author
Erin Hagar is the author of Awesome Minds: The Inventors of LEGO® Toys (duopress, 2016), Julia Child: An Extraordinary Life in Words and Pictures (duopress, 2015) and Doing Her Bit: A Story of the Woman's Land Army of America (Charlesbridge, 2016). After several years working in curriculum and instruction for colleges and universities, she earned her M.F.A. in writing for children and young adults from Vermont College of Fine Arts. Erin lives in Baltimore with her husband, two children, and a few too many pets. Visit Erin at www.erinhagar.com

Paige Garrison has illustrated several books, including Roanoke Baby and One to Ten LA, as well as assisted with Beach Doodles and 100 Pablo Picassos. Before transitioning to children's books, Paige worked for Bento Box Entertainment on the animated TV shows Bob's Burgers and The Awesomes. She currently lives in Los Angeles, California, with her loving husband and their silly pup.