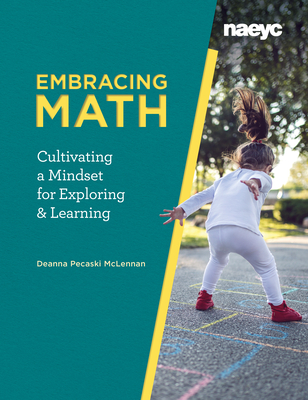 Embracing Math
Cultivating a Mindset for Exploring and Learning
Paperback

* Individual store prices may vary.
Description
Enhance your own comfort level with math in order to develop and implement a rich math program through the lens of emergent learning while increasing children's interest, confidence, and success in mathematics. This book provides a strong pedagogical discussion with relevant, easy-to-implement examples of how to cultivate a learning space for complex exploratory math learning without textbooks or worksheets. Be inspired to reflect upon your curriculum through a mathematical lens and to see the potential for math learning in all aspects of your program. Educators will easily relate to this collection of math-related topics told from the perspective of a teacher who was initially nervous about her ability to teach math to young children and her journey to becoming a more confident teacher of math.
National Association for the Education of You, 9781938113659, 160pp.
Publication Date: August 18, 2020
About the Author
Deanna Pecaski McLennan , PhD, is a passionate early childhood educator, researcher, and writer from Amherstburg, Ontario, Canada, who has spent over 20 years working with young children. As a teacher in Ontario's full-day kindergarten program (equivalent to US prekindergarten) and a university instructor, she devotes her research and practice to exploring the potential for rich mathematics learning through playful inquiry and exploration. She appreciates looking at life through a mathematical lens and recognizes opportunities for authentic, complex engagement in all experiences children have. She is a passionate advocate who feels deeply that the investments we make in the lives of young children benefit our society tremendously over time. Deanna is also a mom to three children and knows firsthand the importance of supporting and improving their confidence, fluency, and accuracy in mathematics. She considers herself a lifelong learner and has spent the last several years transforming her classroom into a safe, supportive space where children can take risks without the use of rigid programming, rote practice, or worksheets. Deanna believes that educators benefit from sharing their journeys with one another and actively uses reflective writing, technology, and social media to connect with others from around the world. Part of her journey has involved writing extensively for NAEYC and publishing articles in the organization's magazine, Teaching Young Children, and peer-reviewed journal, Young Children. Deanna uses her writing and large social media following to provoke conversations about the role math plays in emergent programs and how educators can cultivate children's mathematical mindset while still honoring their interests, strengths, and needs. You can learn more by visiting her website at www.mrsmclennan.blogspot.com or following her on Twitter and Instagram @McLennan1977.