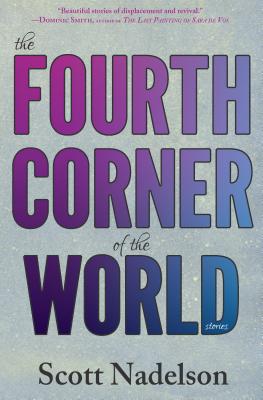 Fourth Corner of the World
Paperback

* Individual store prices may vary.
Description
e characters in Scott Nadelson's latest collection abandon their lands of origin, sever their roots, and distance themselves from the people they once were. ese stories roam geographically and historically, featuring a would- be assassin in 1920s Paris, Jewish utopians in 1880s Oregon, teenage girls seeking revenge in 1980s New Jersey, and modern-day suburbanites writing the stories of their own lives among their casts of beautifully rendered outcasts and seekers. e stories in e Fourth Corner of the World present glimpses into the lives of immigrants, outsiders, and exiles, delivering empathy and insight that's desperately needed in these fraught times.
Praise for The Fourth Corner of the World
A story collection that effortlessly bridges time, offering us a glittering trail of human experience. Scott Nadelson is equally at home in an immigrant's Paris after WWI as he is an American temp worker's search for love and meaning. Tender, brimming, beautiful stories of displacement and revival."
--Dominic Smith, New York Times Bestselling author of THE LAST PAINTING OF SARA DE VOS
"Scott Nadelson's wide-ranging, vividly imagined stories ring with authenticity, humor, and unavoidable heartache. Nadelson's stories expose emotional lives with...is there such a thing as brutal and lyrical honesty? The Fourth Corner of the World is a collection of gorgeously written, truth-soaked stories."
--Adrianne Harun, author of A MAN CAME THROUGH A DOOR IN THE MOUNTAIN
"With grace, ease, and astounding sensitivity, Nadelson squires us through a dazzling array of human experience and emotion reminding us again of the power and majesty of great stories. Each story burns with an interior light, illuminating the cracks within the characters and the hope that keeps them going. Nadelson's con dent and assured voice marks him as a masterful storyteller."
--Gina Ochsner, author of THE HIDDEN LETTERS OF VELTA B.
Engine Books, 9781938126932, 240pp.
Publication Date: February 13, 2018
About the Author
Scott Nadelson: Scott Nadelson is the author of the novel Between You and Me, which was a finalist for the Oregon Books Award, and three story collections, most recently Aftermath, and a memoir, The Next Scott Nadelson: A Life in Progress. He is the winner of the Reform Judaism Fiction Prize, the Great Lakes Colleges Association New Writers Award, and an Oregon Book Award.