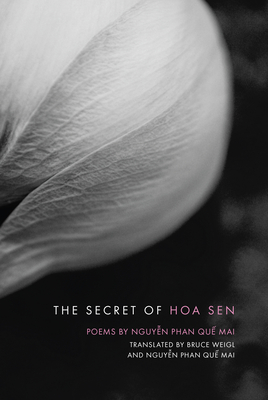 The Secret of Hoa Sen (Paperback)
BOA Editions, 9781938160523, 148pp.
Publication Date: November 11, 2014
* Individual store prices may vary.
Description
Poems by Nguyen Phan Que Mai Translated from the Vietnamese by Bruce Weigl and Nguyen Phan Que Mai Nguyen Phan Que Mai is among the most exciting writers to emerge from post-war Vietnam. Bruce Weigl, driven by his personal experiences as a soldier during the war in Vietnam, has spent the past 20 years translating contemporary Vietnamese poetry. These penetrating poems, published in bilingual English and Vietnamese, build new bridges between two cultures bound together by war and destruction. The Secret of Hoa Sen, Que Mai's first full-length U.S. publication, shines with craft, art, and deeply felt humanity. I cross the Lam River to return to my homeland
where my mother embraces my grandmother's tomb in the rain,
the soil of Nghe An so dry the rice plants cling to rocks.
My mother chews dry corn; hungry, she tries to forget.
About the Author
NGUYEN PHAN QUE MAI Born in a small North Vietnamese village in 1973, Nguyen Phan Que Mai is the author of three poetry collections and translator of six. Her literary awards include the Poetry of the Year Award from the Hanoi Writers Association; First Prize in the Poetry about Hanoi competition from Vietnam's Literature Newspaper and Hanoi Radio & Television; the Capital's Literature & Arts Award from the Hanoi Union of Literature & Arts Associations, among others. Her poems have been featured at major international poetry festivals including the First Asia-Pacific Poetry Festival; the Qinghai International Poetry Festival; and the International Poetry Festival of Medellin, Colombia. Que Mai is the Honorary Fellow of Writing at Hong Kong Baptist University. BRUCE WEIGL Bruce Weigl's most recent poetry collection The Abundance of Nothing was a finalist for the Pulitzer Prize for poetry in 2013. The author of thirteen poetry collections, and the best-selling memoir The Circle of Hanh, Weigl is past President of the Associated Writing Programs, and has been Chairperson of the Judging panel in Poetry for the National Book Award. He has received such literary awards as the Poet's Prize from the Academy of American Poets; the Lannan Literary Award; the Robert Creeley Award; and a Medal for Significant Contributions from the Vietnam Union of Literature & Arts Associations and the Vietnam Writers Association. Weigl is currently a professor of poetry at Lorain County Community College in Elyria, Ohio.