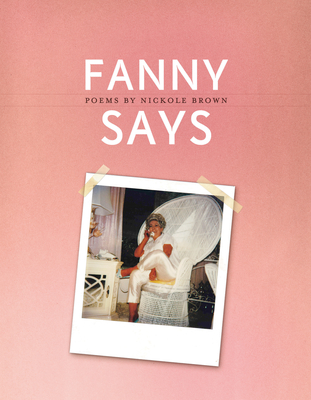 Fanny Says (Paperback)
BOA Editions, 9781938160578, 136pp.
Publication Date: April 14, 2015
* Individual store prices may vary.
Description
An "unleashed love song" to her late grandmother, Nickole Brown's collection brings her brassy, bawdy, tough-as-new-rope grandmother to life. With hair teased to Jesus, mile-long false eyelashes, and a white Cadillac Eldorado with atomic-red leather seats, Fanny is not your typical granny rocking in a chair. Instead, think of a character that looks a lot like Eva Gabor in Green Acres, but darkened with a shadow of Flannery O'Connor. A cross-genre collection that reads like a novel, this book is both a collection of oral history and a lyrical and moving biography that wrestles with the complexities of the South, including poverty, racism, and domestic violence. "Nickole Brown's unleashed love song to her grandmother is raucous and heart-rending, reflective and slap-yo-damn-knee hilarious, a heady meld of lyrical line and life lesson. Brown is blessed to be blood-linked to such a shrewd and singular soul, and the poet's mix of monologue, myth, and unbridled mayhem paints a picture of a proper Southern lady who is just--well, unforgettable." --Patricia Smith "In Fanny Says, Nickole Brown distills the whole of America into one woman: bawdy, loving, racist, battered, healed, and gorgeous with determination. Our country has no history that does not touch the South. Our divisions are our unions. Here, Brown unleashes a voice returned to teach us a lesson. Reader, fair warning: you can't hide from Fanny. You will be changed by this book." --Rebecca Gayle Howell

About the Author
Nickole Brown grew up in Louisville, Kentucky, and Deerfield Beach, Florida. Her first collection, Sister, was published by Red Hen Press in 2007. She received her MFA from Vermont College of Fine Arts, studied literature at Oxford University, and was the editorial assistant for the late Hunter S. Thompson. She is the Editor for the Marie Alexander Series in Prose Poetry at White Pine Press, and is also an Assistant Professor at the University of Arkansas in Little Rock, where she lives with her wife, poet Jessica Jacobs.
or
Not Currently Available for Direct Purchase