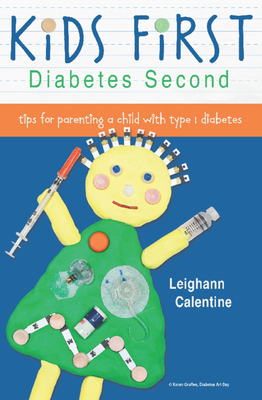 Kids First Diabetes Second
Tips for Parenting a Child with Type 1 Diabetes
Paperback

* Individual store prices may vary.
Description
2013 ERIC HOFFER BOOK AWARD WINNER Raising a child is a difficult job. Raising a child with a chronic illness such as diabetes can be a difficult job with a side order of special challenges. Leighann Calentine's D-Mom Blog is an invaluable resource for parents and caregivers of children with diabetes. Leighann shares her family's experiences with her daughter's type 1 diabetes in a forum that is intimate, informative, and inspirational. In a style both practical and affirming, Kids First, Diabetes Second presents Leighann's advice to help parents and caregivers enable children with diabetes to thrive. Learn how to automate tasks, navigate challenges, celebrate achievements, establish a support group, relieve stress, and avoid being consumed by management of the condition, while focusing on what's most important: raising a happy, healthy child.
Praise For Kids First Diabetes Second: Tips for Parenting a Child with Type 1 Diabetes…
Leighann's book is the support system and toolkit that every family needs in order to make sure diabetes doesn't get in the way of your kid being able to live life like a kid."
Diabetes Daily


[Calentine] did a great job explaining things and then used a fabulous panel of experts to help fill in various areas. The balance was brilliant and this is definitely a book that should be given to every newly diagnosed family at least."
Diabetes Advocacy


The only thing that surpasses the knowledge one may gain from reading Leighann Calentine's Kid First, Diabetes Second is seeing the passion from which the author has written. It should be on the desk of every diabetes educator and distributed to every newly diagnosed family who walks in their office."
Tom Karlya, Diabetesdad to the diabetes community, VP of The Diabetes Research Institute Foundation


this book covers the right balance of practical information on tactics and tips for managing diabetes along with how to deal with the emotional burden of raising a child with diabetes."
DiabetesMine


I read Kids First, Diabetes Second and thought it was fantastic. Leighann has clearly poured her heart into helping other parents help their children. I highly recommend this to anyone with a child with diabetes!"
David Edelman, President, Diabetes Daily


Kids First, Diabetes Second is a must-read for all T1 parents looking for a supportive voice. Even after three years of developing my family's tool set for handling type 1 diabetes, this book proves there are still more tricks to learn. Calentine writes from the heart and it feels more like you've got a close friend sitting down with you, dishing her experience in carefully measured portions; handled so tenderly, so sweetly, you better make sure you bolus when reading."
Dan Masucci, writer/director of DxONE, the first narrative film about type 1 diabetes


Written in a language that reads like a letter from your best friend, Leighann and Quinn have created a book that will absolutely give you the support and knowledge you need to get through every unexpected, confusing, and sometimes scary moment you'll face while raising your son and daughter with diabetes."
Ginger Vieira, author of Your Diabetes Science Experiment, type 1 since 1999


I wish that Kids First, Diabetes Second was in print when my daughter Arden was diagnosed with type I diabetes. I spent years figuring out the things that Leighann's book could have taught me in a weekend. It's a roadmap for newly diagnosed families and a reference for those that have been living with diabetes for years. If you are the parent of a child with type I, this is the book for you."
Scott Benner, author of Arden's Day, parent of a child with type 1 diabetes
Spry Publishing LLC, 9781938170003, 192pp.
Publication Date: July 31, 2012
About the Author
Leighann Calentine is a respected health blogger and diabetes advocate, who was recently recognized as one of the 10 most influential people currently within the diabetes online community.