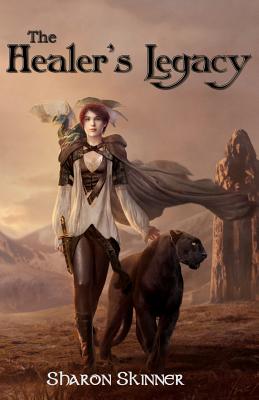 The Healer's Legacy
Paperback

* Individual store prices may vary.
Other Editions of This Title:
Hardcover (9/1/2020)
Description
THE HEALER'S LEGACY YA/Crossover Fantasy An incredible debut fantasy novel from author, Sharon Skinner. Orphaned by war, haunted by unknown origins, and chased by a warlord and his army of brutal soldiers. KIRA is a young woman with a secret. She can psychically communicate with animals. She is also on the run from her abusive mate Toril, the hero turned warlord, who led the country's forces to victory against the outland raiders. Only that was before his love of power consumed him. Now, his only focus is on tracking down Kira and making her punishment an example of his power. But the quest for freedom isn't the only struggle Kira faces. She must also come to terms with her past choices, whose echoes drive her present. And now, the future of the land and people she has come to love depends on the decisions she will be forced to make. Author Sharon Skinner takes us on an extraordinary and emotional journey, where survival is about more than life and death, and healing takes more than medicine. The Healer's Legacy is an unforgettable story and a captivating reading experience.
Brick Cave Books, 9781938190025, 288pp.
Publication Date: March 18, 2012
About the Author
Sharon moved to Arizona in 1981 after a four-year stint in the U.S. Navy where she learned electronics and traveled halfway around the world on the U.S.S. Jason, a repair ship and the first Naval vessel to take a contingency of women on a full six-month WestPac cruise. During her tour, she was the first enlisted female to stand shore patrol in the Philippines and, as the Saturday morning FM Rock Jock, served as the first female DJ to be heard on the Armed Forces Radio Station airwaves issuing from the island of Diego Garcia in the Indian Ocean. Sharon Skinner holds an M.A. in Creative Writing. Her work has been published in a number of local, national and international publications. She previously served for eight years as the Executive Editor of Anthology magazine, a small press literary magazine published in Mesa, Arizona. Sharon is an active member of SCBWI (Society of Children's Book Writers and Illustrators) and serves as the Assistant Regional Advisor for SCBWI AZ. Sharon is published by Brick Cave Books