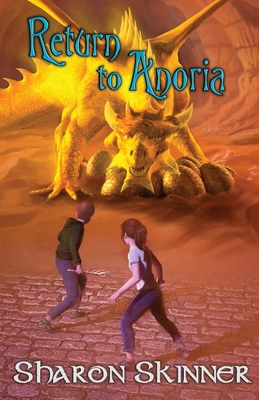 Return to Anoria
Paperback

* Individual store prices may vary.
Description
The follow up to the wildly successful fantasy middle-grade The Nelig Stones, also by author Sharon Skinner.
Stefani and Robbie have grown closer since their adventure in Anoria, but their friendship has become strained. Stefani is having troubling dreams. A voice is calling for help, calling her and Robbie back to Anoria. She has no idea why they need to return, or what may await them when they do. If they can figure out how to get there.
But Robbie has troubles of his own dealing with his grandfather's strange behavior. Anoria has become sick and in need of healing. While trying to help, Laurel Silverbark, last of the Treemages, has become trapped in a deep slumber that only one person can rouse her from; The Awakener. No one knows exactly where the Awakener is, nor what form they have taken.
As Stefani and Robbie search for a way to heal the sickness that is draining the land, they learn that sometimes hope can be the greatest strength, and that even those who seem lost have something to offer. Join Stefani and Robbie as they journey back to Anoria, to attempt to set things right and save their friends. More than a quest adventure,
Return to Anoria is a story about facing fear and learning to accept others as they are.
From the Book
Stefani glanced across the way to where Aurien stood talking with the old man. Standing beside one another like that, the two beings looked sort of alike. Aurien's white coat and faded hooves and horn beside the Awakener's long, white beard. It was as if they had both stepped out of some fantasy artist's idea of a unicorn and a sage. She snorted again and looked away.
About Sharon Skinner
"One of the reasons that I write is that I feel driven to analyze the motives and causes of personal behavior and their relationship to societal conditioning. Ray Bradbury once told an interviewer that, "Science fiction pretends to look into the future, but it's really looking at a reflection of what is already in front of us." Fantasy does something similar for me."
Brick Cave Books, 9781938190599, 206pp.
Publication Date: November 9, 2020