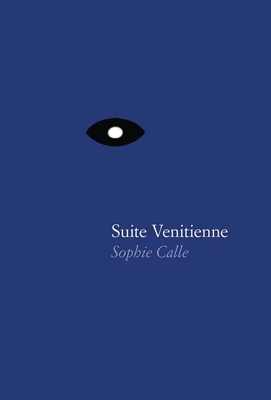 Sophie Calle (Hardcover)
Suite Vénitienne
Siglio Press, 9781938221095, 96pp.
Publication Date: May 26, 2015
* Individual store prices may vary.
Description
After following strangers on the streets in Paris for months, photographing them and notating their movements, Sophie Calle ran into a man at an opening whom she had followed earlier that day. "During the course of our conversation, he told me he was planning an imminent trip to Venice. I decided to follow him," she writes at the beginning of Suite V nitienne, her first artist's book and the crucible of her inimitable fusion of investigatory methods, fictional constructs, the plundering of real life and the composition of self. Over the course of almost two weeks in Venice, Calle notates, in time-stamped entries, her surveillance of Henri B., as well as her own emotions as she seeks, finds and follows him through the labyrinthine streets of Venice. Her investigation is both methodical (calling every hotel, visiting the police station) and arbitrary (sometimes following a stranger--a flower delivery boy, for instance--hoping someone might lead her to him). This Siglio reissue is a completely new iteration of Suite V nitienne (first published in 1988 and long out of print), designed in collaboration with Calle to be the definitive English-language edition. Printed on Japanese paper with a die-cut cover and gilded edges, this beautiful new Siglio edition allows readers to devour this crucial and compelling work.
Sophie Calle (born 1953) is an internationally renowned artist whose controversial works explore the tensions between the observed, the reported, the secret and the unsaid. She has mounted solo shows at major museums around the world and represented France at the Venice Biennale in 2007. Her most recent US exhibition was the acclaimed Rachel, Monique at the Episcopal Church of the Heavenly Rest in Manhattan in 2014.