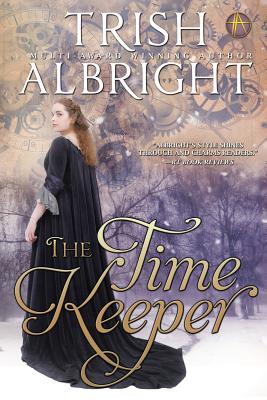 The Time Keeper
Paperback

* Individual store prices may vary.
Description
A holiday love story for everyone... Avery Hilfington was talented, tenacious, and spent a lot of time, thinking about time. She'd lost her father at sea, and was determined to solve the problem of longitude before she lost the only other man she loved - a man who wanted nothing to do with her anymore, and a man that she swore had broken her heart for the last time. Sir Luc Rees, Lieutenant in the Royal Navy, had one goal - to win back the heart of his best childhood friend. He had turned away from her for four years, and now he had to make her understand why. Of course between her sleuthing for answers and chasing down thieves, the opportunities for courting were slim. With winter holidays fast approaching, he wished for one thing only - the gift of time to win her love. PRAISE FOR TRISH ALBRIGHT'S THE TIME KEEPER "Albright's style shines through and charms readers." -Romantic Times BOOKreviews.
Stone Media, 9781938258114, 178pp.
Publication Date: November 6, 2012
About the Author
Trish Albright is a multi-award winning author with a passion for adventure. She was a writer of short fiction prior to completing her first novel. Siren's Song, the first book in the Keepers of the Legacy series, sets the stage for a family saga filled with fast-paced action, snappy dialogue, and tear-jerking-heart-wrenching romance. Her second novel, Siren's Secret, does not disappoint with its humor, adventure, emotion, and ultimately happy ending. Her latest release, The Time Keeper, is a 2012 Christmas novella, a historical romance that takes place in Greenwich, England. She is a winner of The Molly Award, and a two-time Golden Heart finalist. Siren's Song is winner of the Write Touch Readers Award, the Beacon Award, and was nominated for the 2009 Award of Excellence. Trish belongs to Romance Writers of America, Los Angeles Romance Authors, and several other publishing organizations. She currently resides in Los Angeles, CA.