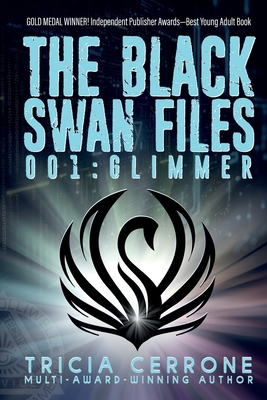 Glimmer (Black Swan Files #1)
Paperback

* Individual store prices may vary.
Description
The Black Swan Files begin... At certain moments in history, when several impossible-to-predict events collide, they create what's known as a Black Swan-an event that can change how we look at science, technology, even our history. Jocelyn Albrecht is one such Black Swan.
Infected by the biotechnology her parents sought to develop, she has become human enhanced-an H+. The accident that gave Jocelyn new powers also killed her family. In their place she is raised at Camp Holliwell by her "uncle"-a government funded scientist-and his league of doctors who study and test Jocelyn daily in the hopes of learning how to replicate her. The military has another goal in mind-to make her an asset.
After losing one family and the home where she belonged, Jocelyn strives to keep her Holliwell family happy, as odd as they might be. That is until she finds out the truth...Uncle Laurence is using her as a guinea pig, her brother and sister are still alive, and she doesn't have long to live. Now Jocelyn only cares about finding her real family. The problem-breaking out of a highly classified, military facility before the next experiment kills her.
Seth Johnson had nothing left to lose when he volunteered to go to Camp Holliwell. Now he would do anything to get out. He wants to help Jocelyn escape, but with a target on both of them, survival means he needs to look out for number one.
Georgie Washington is a straight A student and only child of middle class Virginians. Raised on civil rights and the horrors of American slavery, Georgie has a keen sense of what's right and what's not. She secretly befriends Jocelyn, and when no one else will help, commits to breaking her out of Camp Holliwell.
Graeme Rochester knows something is wrong, he just hasn't figured out the connection to his family. One thing he does know-he would do anything to keep them safe. When the world at Camp Holliwell threatens that safety, Graeme wants to know why, even if it means a collision course with the government's best-kept secret. These four people, from vastly different worlds, learn the true meaning of friendship and sacrifice when unpredictable events once again collide, and create the possibility of another Black Swan.
Stone Media, Inc., 9781938258145, 430pp.
Publication Date: April 28, 2015
About the Author
About Me: There are few things more important in my writing career than telling a great story, a fun story, and sometimes one that inspires us to be a little better than we are. I hope in reading my books you gained comfort, laughs, or an escape from your every day life. Thank you for spending time with me and my characters as we try to fill pages with laughter, love, and a little adventure. Official Bio: By day, Tricia Cerrone is a Walt Disney Imagineer. By night, Tricia is a passionate writer and novelist, currently working on The Black Swan Files-a young adult series about a teenage girl who has the makings of a new breed of superhero. Glimmer, the first in the series, introduces the heroine's origin story, and her quest to find her family and where she belongs. Glimmer won the 2016 Gold Medal in the Independent Publisher Awards for Best Young Adult Ebook, and was given an Honorable Mention in Genre Fiction from the North Street Book Prize. Ms. Cerrone also writes Historical Romance (for new adults, young adults, and anyone who loves epic love!) under the pen name, Trish Albright. Siren's Song and Siren's Secret in the Keepers of the Legacy series have collected a number of awards. Regardless of what the time or location might be, Tricia's stories are known for their love of family, loyal friendships, dauntless heroes, and of course...heroines who know how to fight for their dreams.