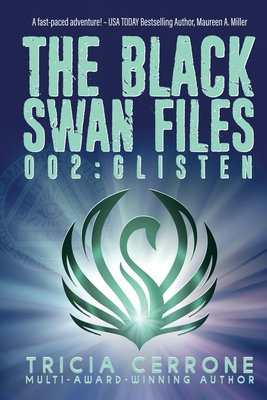 Glisten (Black Swan Files #2)
Paperback

* Individual store prices may vary.
Description
The Award-Winning Series is back
She is known as Project Sunday to her former government captors-a human-enhanced teen transformed by a black swan event. She was their most valuable asset-until she escaped. Now, only one thing is certain...Jocelyn has no intention of ever going back.
Graeme knew Jocelyn was special the first time he met her. Then, leaping from his Porsche to take down a drone, she pretty much sealed the deal. Months later, she has come back into his life and trouble is not far behind. But how do you help someone who won't tell you the truth, is constantly on the move, and has a best friend that you want to punch in the face? As the stakes get higher and his own family is at risk, Graeme has to decide one thing...whose side is he on?
Finally in New York, Jocelyn is eager to reach her brother and sister, but nothing works out as she hoped. She has no way to prove who she is, there's a serial killer who wants her dead, her former handler is now controlled by her nemesis, and the mastermind of it all is toying with her. Amidst everything, she is trying to survive in the "real world," help her family in secret, and navigate her first shot at romance. Thankfully, she has friends with skills. It will take all of them to stop the government's latest plot. But at what cost?
Stone Media, Inc., 9781938258152, 374pp.
Publication Date: December 22, 2016
About the Author
Tricia Cerrone is a multi-award winning American author. By day she is a Walt Disney Imagineer, and by night, Tricia is a passionate writer and novelist, currently working on The Black Swan Files-a young adult series about a teenage girl who has the makings of a new breed of superhero. Glimmer, the first in the series, introduces the heroine's origin story, and her quest to find her family and where she belongs. Ms. Cerrone also writes Historical Romance (for new adults, young adults, and anyone who loves epic love!) under the pen name, Trish Albright. Siren's Song and Siren's Secret in the Keepers of the Legacy series have collected a number of awards. Her holiday novella, The Time Keeper, captures all the action, romance, and snappy dialogue she is known for in her other historicals. Regardless of what the time or location might be, Tricia's stories are known for their love of family, loyal friendships, dauntless heroes, and of course...heroines who know how to fight for their dreams. When not working or writing, Tricia loves exploring the world, discovering old things, learning new things, and most of all having fun with family and friends. Awards Received as Tricia Cerrone: Glimmer won a GOLD MEDAL in the Independent Publishers Awards (an IPPY), for Best Young Adult E-Book and an Honorable Mention from the North Street Book Prize in Genre Fiction. Ms. Cerrone's first manuscript, A Virgin in L.A., won the Colorado Romance Writers Molly Award and was a finalist in Romance Writers of America's Golden Heart(R) Award for Unpublished Authors. Awards Received as Trish Albright: RWA Golden Heart Finalist for The Captain's Ring (Later became Siren's Song); Winner of the 2009 Wisconsin Write Touch Readers' Award; Winner of 2009 THE BEACON AWARD presented by First Coast Romance Writers; 2nd Place in 2010 THE BEACON AWARD; 2010 GOLDEN QUILL Finalist; Finalist for the 2010 AWARD OF EXCELLENCE presented by Colorado Romance Writers.