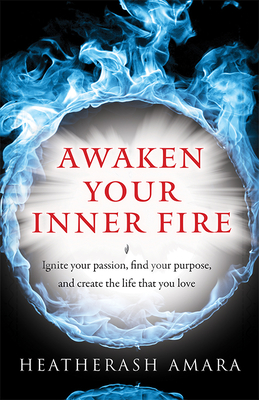 Awaken Your Inner Fire
Ignite Your Passion, Find Your Purpose, and Create the Life That You Love
Paperback

* Individual store prices may vary.
Other Editions of This Title:
CD-Audio (5/1/2017)
Description
Your Inner Fire is the vital energy within you, the unseen force that gives life to your being. Perhaps because this energy can't be measured in a lab, many people live without any idea of its existence, or the importance of tending to it.
In this groundbreaking book, best-selling author HeatherAsh Amara introduces you to the fundamentals of your Inner Fire, and explains how the four major aspects of your being--the mental, spiritual, emotional, and physical--all interact with this powerful energy.
Amara teaches that when you view these four aspects through the lens of your Inner Fire, you can radically change how you think, feel, and live in the world. In these pages, you'll find practices, meditations, and explorations to put the concepts to work in your life.
By tending to your Inner Fire, you will learn how to:

Find your true work in the world, regardless of any job you do or role you play.
Use your Inner Fire as your own personal North Star, allowing it to guide you when making important decisions.
Move beyond busyness, stress, and overwhelm and live in joyous creation
Implement a new daily practice to live in balance no matter what life brings.
Learning how to tend your Inner Fire in a world that is constantly trying to hook your attention is a challenge--but this book invites you to take new perspective on who you are and how you relate to the world.
Praise For Awaken Your Inner Fire: Ignite Your Passion, Find Your Purpose, and Create the Life That You Love…
"This book will show you a new way to look at yourself and your world." --don Miguel Ruiz, author of The Four Agreements
— Reviews

"Now more than ever it is important for all of us to step up to the plate and awaken our Inner Fire. Within these pages you will be gently and safely guided to discovering your true purpose. I can't think of a better teacher to take this journey with than HeatherAsh Amara." --Madisyn Taylor, DailyOM
— Reviews

"HeatherAsh Amara's Awaken Your Inner Fire is a gorgeous reminder that we must feed ourselves completely in order to stay connected to that vital spark within--that core part of us that makes us uniquely who we are. As HeatherAsh shows her readers, tending your inner fire is all about finding stillness right in the middle of the chaos. This book is required reading for anyone who wants crystal clarity on the big questions of their lives." --Kelly McNelis, Founder of Women for One
— Reviews

"In Awaken Your Inner Fire, HeatherAsh provides solid guidance to help you tune into your passion for life and express it in many different ways. Read this book slowly, absorb these ideas, and you'll find greater peace and joy in your life." --Dr. Steven Farmer, author of Healing Ancestral Karma and Animal Spirit Guides
— Reviews

"HeatherAsh Amara is brilliant, insightful, and committed to helping you find your deepest truth." --Pedram Shojai, New York Times bestselling author of The Urban Monk
— Reviews

"Awaken Your Inner Fire is a remarkable book which while reading felt like I was gifted with a nurturing drink of water after being in drought. It is time to awaken to our passion and HeatherAsh Amara brilliantly guides us in how to do this. This is a beautiful and necessary book to read." --Sandra Ingerman, MA, author of Soul Retrieval and Walking in Light: The Everyday Empowerment of Shamanic Life
— Reviews
Hierophant Publishing, 9781938289644, 176pp.
Publication Date: October 1, 2017
About the Author

HeatherAsh Amara is the founder of the Toltec Center of Creative Intent, based in Austin, TX. She studied and taught extensively with don Miguel Ruiz, author of The Four Agreements, and continues to teach with the Ruiz family. She is the author of The Toltec Path of Transformation. Her website is www.toci.org.