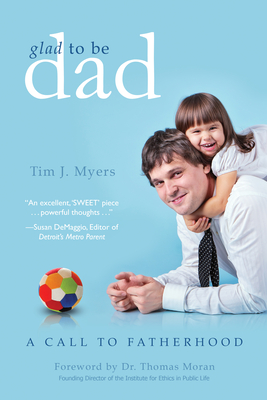 Glad to Be Dad (Paperback)
A Call to Fatherhood
Familius, 9781938301018, 270pp.
Publication Date: May 1, 2013
* Individual store prices may vary.
Description
After staying home with his two sons for a year and his daughter since her infancy, Tim Myers knows all about being a stay-at-home parent. He knows the most effective cleaning products, which snacks to buy, and has developed a "housemaid's knee." He has experienced first-hand the profound influence fathers have on their children, along with the challenges of being a committed parent. By recounting personal experiences, offering honest, sincere opinions, and including quizzes for fatherly-preparedness, Tim Myers emphasizes the importance of fatherly contribution and influence in the home. He shows fathers that they are not only vital to home life, but that fatherhood also brings great joy into men's lives, not to mention a surprising amount of plain old fun. In addition, Myers details the essential role of fathers, and the very real (and sometimes frustrating) transition into taking an active role in home life. Poignant, funny, and inspiring, Glad to be Dad is perfect for both aspiring fathers and seasoned veterans.
About the Author
Tim J. Myers is a writer, storyteller, songwriter, and teacher. He has eleven children's books out and four on the way, has won numerous awards, and has published fiction, non-fiction, and poetry for children and adults. He lives in Santa Clara, California, is the oldest of eleven children, and can whistle and hum at the same time- though he hasn't won any awards for that . . . yet.
Praise For Glad to Be Dad: A Call to Fatherhood…
"An excellent, 'SWEET' piece . . . powerful thoughts . . . "
- Susan DeMaggio, Editor of Detroit's Metro Parent

"I read [it] with pleasure"
- David Remnick, Editor in Chief, The New Yorker

"If you read just one book of the hundreds of recently published books on 'parenthood,' make it Tim Myers' Glad to be Dad.  Why elevate this book to the top? Simply put, it's funny, wise, and practical. It celebrates the everyday moments of learning from and with a child and offers an intimate and perceptive view of parenthood—particularly, fatherhood when dads take on a primary caretaking role in the family. The book is not written as an expert's treatise on parenting: a manual of  'how-to' or 'how-not-to-do,' although it accomplishes many of these same outcomes. Fundamentally, Myers is a storyteller sharing his lived experience as a full-time dad during his daughter's preschool years. We are transported into Myers' life and his relationship with his daughter, wife, and sons through winsome stories lively in dialogue and detail. We follow closely as he makes sense of his experiences with a compelling honesty and sensitivity to the cultural factors that shape one's sense of self and the roles one embodies. Stimulated by a book that affirms the daily opportunities we have for love and growth, we are led to reflect upon our own experiences as parents, as children, as family members."
- Dr. Christine Bachen, specialist on media and family, Communications Dept., Santa Clara University
or
Not Currently Available for Direct Purchase