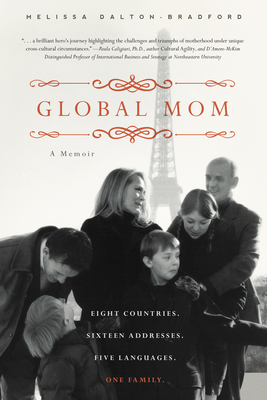 Global Mom
Eight Countries, Sixteen Addresses, Five Languages, One Family
Paperback

* Individual store prices may vary.
Description
After more than twenty years living internationally—sixteen addresses, eight countries, and five different languages—writer Melissa Bradford shares a fantastic journey of motherhood that will inspire any family.

Follow this family of six on their passage—extraordinary, hilarious and heartbreakingly poignant—from Bright Lights (of New York City) to the Northern Lights (of Norway) to the City of Light (Paris) to the speed-of-light of the Autobahn (in Munich). Continue deep into the tropics of Southeast Asia (Singapore) and end your voyage in the heights of the Swiss Alps (Geneva).

As varied as the topography—the craggy fjords, the meandering Seine, the black forests, the muggy tropics, the soaring Alps—this multicultural tale traverses everything from giving birth in a château in Versailles to living on an island in a fjord. From singing jazz on national Norwegian T.V. to judging an Indonesian beauty contest. From navigating the labyrinth of French bureaucracy and the traffic patterns of Singapore to sitting around a big pine table where the whole family learns languages, cultures, cuisines—where they, in short, learn to love this complex and diverse world and, most importantly, each other.
Praise For Global Mom: Eight Countries, Sixteen Addresses, Five Languages, One Family…
"This could have been a memoir about loss, and a mother's grief. It would have been natural and understandable, given that her son, Parker Bradford, died suddenly and unexpectedly at the age of eighteen. Any parent brave enough to try to imagine that loss would have forgiven Melissa Dalton Bradford for being unable to write from any other point of view than that of sorrow. Moreover, I have no doubt that book would also have been worth reading, since Melissa Dalton-Bradford writes very well. Instead, here is a rich, frank and funny book in which the essentials of family and friendship and community are combined with interesting travelogue and the best kind of spiritual writing. In short, this is a book about love." 
—Kate Braestrup, New York Times best-selling author of Here If You Need Me

"After twenty years and eight different international relocations for her husband's career, Melissa Dalton-Bradford has much to offer on how ordinary family moments can create an extraordinary family journey when you mix countries and cultures. Global Mom:  A Memoir is a brilliant hero's journey highlighting the challenges and triumphs of motherhood under unique cross-cultural circumstances. With honesty, sensitivity, and humor, Dalton-Bradford is a role model for all parents who will be relocating with children, especially those who will relocate for their spouse's career."
—Paula Caligiuri, P.h.D., author Cultural Agility:  Building a Pipeline of Successful Global Professionals

"Global Mom provides an honest and poignant look at the unique challenges of raising a family across multiple cultures. It's a journey worth visiting for readers."
—Bicultural Mama

"The humor is self-deprecating; the pain—beyond compare. I found myself laughing out loud. . .  and sobbing out loud, as well."
—The Association for Mormon Letters

". . . a stunning picture of life . . ."
—The Deseret News

"a must read . . . a powerful story . . . extraordinary."
—Chick Lit Central

"After reading Melissa Dalton Bradford's fascinating memoir of her adventures with her family I am left with many emotions—admiration, amazement, and, as a mom who has done her own fair share of moving her family around, deep empathy. This is one brave woman!"
—Sharon Galligar Chance
"Your account of life as a global Mom and the way you describe your immersion in the many cultures and languages are simply inspiring. I think your book should be required reading for all those working in global companies, especially if they are going on a foreign assignment, or if they interact with other cultures."
—Sharon Moshayof
Familius, 9781938301346, 322pp.
Publication Date: July 16, 2013
About the Author
Melissa Dalton-Bradford is a writer, independent scholar, world citizen, and mother. She holds a BA in German and an MA in comparative literature, both from Brigham Young University. She speaks, reads and writes fluent German, French, and Norwegian, is conversant in Mandarin, and has taught language, humanities, and writing on the university level. Bradford has performed professionally as a soprano soloist and actress in the US, Scandinavia, Central Europe, and South East Asia. She and her husband raised their family of four children in Hong Kong, Vienna, Oslo, Paris, Munich, Singapore, Geneva, and Frankfurt.
or
Not Currently Available for Direct Purchase