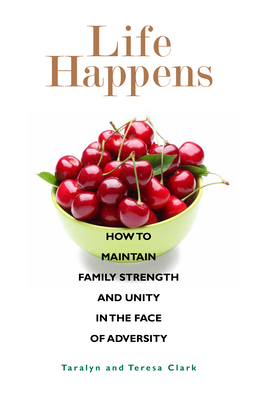 Life Happens (Paperback)
How to Maintain Family Strength and Unity in the Face of Adversity
Familius, 9781938301780, 144pp.
Publication Date: August 15, 2013
Other Editions of This Title:
Hardcover (8/15/2013)
* Individual store prices may vary.
Description
It happens to every family. Things are humming along smoothly when suddenly they realize that life is not just a bowl of cherries. An unlooked for event, crisis, or trial threatens to upset the balance of all they consider normal. How will they ever survive and how will they ever get things to return to normal? Is it even possible?
 
What if constant change and adaptation is what "normal" really looks like?  In Life Happens Taralyn and Teresa Clark explore life realities and provide much-needed information gained from decades of experience to survive and ultimately thrive in spite of life challenges.
About the Author
A national award-winning storyteller who is passionate about using story as a vehicle to turn and heal hearts, Teresa Clark has spent over twenty years practicing her craft with at-risk youth, women, the aged, and families. Teresa has passionately advocated for storytelling on the local, regional, and national level both as producer and administrator. She is a storyteller, teacher, published author, researcher, blogger, and most importantly, a wife, mother, and grandmother.

Taralyn Clark works with at-risk children, teens, and families in various therapeutic and recreational settings; helping them adapt to significant life changes including those caused by drug and alcohol addiction, orphanage, chronic illness, divorce, the challenges of children with special needs, and the death of close friends and family members. She is a teacher, researcher, published author, blogger, and website editor, and has served as an administrator in camp and rehabilitative settings. Taralyn was reared in a home where story was used to help the family adapt to new and trying situations in family life. Her father's ongoing battle with chronic illness grants her an insider's perspective of what life's crucibles can do to families. Taralyn has dedicated her life to strengthening homes and families by helping others to create powerful healing memories and remember the power of their own stories.
or
Not Currently Available for Direct Purchase