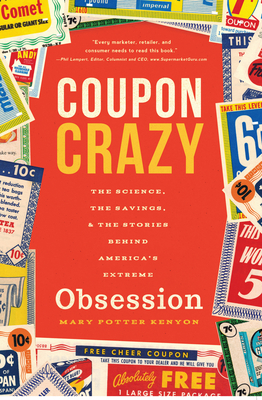 Coupon Crazy
The Science, the Savings, and the Stories Behind America's Extreme Obsession
Paperback

* Individual store prices may vary.
Description
Coupon Crazy examines the phenomena of avid coupon use and the socio-cultural and socioeconomic factors that construct it. By delving into the history of couponing, refunding, the science of shopping, and the dark underbelly of a coupon world the average American doesn't even know existed, author Mary Potter Kenyon manages to both fascinate and educate the reader. Readers will meet today's "Coupon Queens" (and Kings) and learn about an era when trash really was cash. Not just an observer of this ethnographic research, Mary lived it for over 30 years.
Praise For Coupon Crazy: The Science, the Savings, and the Stories Behind America's Extreme Obsession…
"The saving money phenomenon is one of the most powerful consumer trends we have ever seen. Coupon Crazy goes beyond the headlines and television shows to unearth what this trend is all about, who it effects and why and underscores why it is here to stay. Every marketer, retailer and consumer needs to read this book; it offers the lessons to succeed both professionally and personally."
—Phil Lempert, Editor, Columnist CEO, www.SupermarketGuru.com

"Coupon Crazy is a must read for any retailer or marketer in today's compulsively frugal world. Mary Potter Kenyon knows her subject cold and her compelling book will not only help your business get coupon savvy, her tips will save you a bundle in your personal life. A coupon manifesto that comes with its own built in bonus!"
—Mary Lou Quinlan, Founder, Just Ask a Woman, author of What She's Not Telling You and The God Box

"Overall, this was an enjoyable read and without a doubt, my favorite aspect of the entire book was the candid tone Kenyon takes in sharing her story and others. As someone that both uses coupons and teaches couponing practices, I found the book triggering self-reflection at many points: Do I purchase products just because they are on sale? Do I devalue products I've gotten for free? Do I allow coupons to inform my purchases or the other way around?  If you are a couponer, it's quite possible you'll find yourself reflecting on your own shopping habits as you read this book, too."
—Angela Russell, The Coupon Project
Familius, 9781938301889, 250pp.
Publication Date: August 1, 2013
About the Author
Mary Potter Kenyon works as Program Coordinator for Shalom Spirituality Center and is a public speaker, a workshop presenter, and a writing instructor. Mary is the author of five previous Familius titles, including the award-winning Refined by Fire: A Journey of Grief and Grace, and is widely published in newspapers, magazines, and anthologies, including ten Chicken Soup for the Soul books.
or
Not Currently Available for Direct Purchase