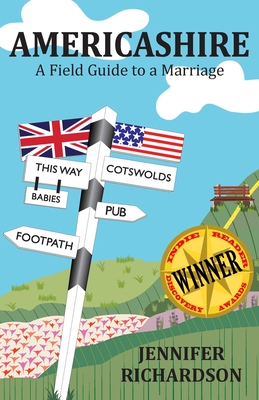 Americashire
A Field Guide to a Marriage
Paperback

* Individual store prices may vary.
Description
When an American woman and her British husband decide to buy a two-hundred-year-old cottage in the heart of the;Cotswolds, they're hoping for an escape from their;London;lives. Instead, their decision about whether or not to have a child plays out against a;backdrop of village;f tes, rural rambles, and a cast of eccentrics clad in corduroy and tweed.; Americashire: A Field Guide to a Marriage;begins with the simultaneous;purchase of a;Cotswold cottage and Richardson's ill-advised decision to tell her grandchild-hungry parents that she is going to try to have a baby. As she transitions from urban to rural life, she is forced to confront both her ambivalence about the idea of motherhood and the reality of living with a spouse who sees the world as a glass half-full. Part memoir, part travelogue - and including field guides to narrative-related Cotswold;walks -;Americashire;is a candid, humorous tale of marriage, illness, and big life decisions.
;

She Writes Press, 9781938314308, 158pp.
Publication Date: April 23, 2013
About the Author
Jennifer Richardson is an American Anglophile who spent three years living in a Cotswold village populated by fumbling aristocrats, gentlemen farmers, and a village idiot.;She is married to an Englishman who provides her with ample writing material.;She currently resides in Santa Monica, California with her husband and her royal wedding tea towel collection.;You can find her on Twitter @baronessbarren.