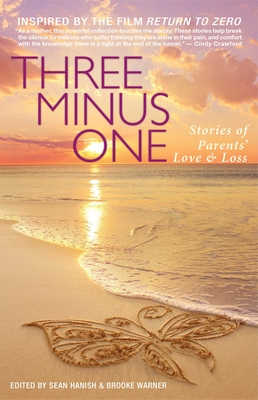 Three Minus One
Stories of Parents' Love and Loss
Paperback

* Individual store prices may vary.
Description
Three Minus One: Parents' Stories of Love and Loss is a collection of intimate, soul-baring stories and artwork by parents who have lost a child to stillbirth, miscarriage, or neonatal death, inspired by the film Return to Zero.
;
The loss of a child is unlike any other, and the impact that it has on the mother, the father, their family, and their friends is devastating--a shockwave of pain and guilt that spreads through their entire community. But the majority of those affected, especially mothers, often suffer their pain in silence, convinced that their grief and trauma is theirs to bear alone. This anthology of raw memoirs, heartbreaking stories, truthful poems, beautiful painting, and stunning photography from the parents who have suffered child loss offers insight into this unique, devastating and life-changing experience--breaking the silence and offering a ray of hope to the many parents out there in search of answers, understanding, and healing.;

She Writes Press, 9781938314803, 300pp.
Publication Date: May 6, 2014
About the Author
Sean Hanish is an award-winning filmmaker, screenwriter and playwright and a member of the Writer's Guild of America.; His feature directorial debut, RETURN TO ZERO is a true story based on the experience he and his wife had when they lost their first son within weeks of his due date in 2005.; RETURN TO ZERO stars Minnie Driver, Paul Adelstein, and Alfred Molina, and is the first Hollywood film to tackle the taboo subject of stillbirth.; Brooke Warner is founder of Warner Coaching Inc., publisher of She Writes Press, and author of What's Your Book? A Step-by-Step Guide to Get You from Inspiration to Published Author. Her book was a finalist for the Foreword Reviews Book of the Year Award for 2012 and her website was selected by the Association of Independent Authors as a winner of "Best Websites for Independent Authors." She lives and works in Berkeley, California.