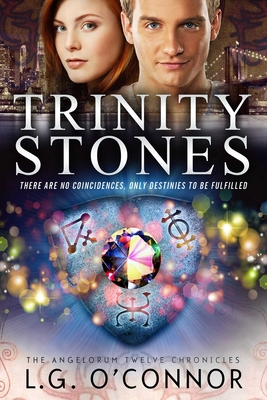 Trinity Stones (Angelorum Twelve Chronicles #1)
Paperback

* Individual store prices may vary.
Description
Anxiety-ridden New York investment banker, Cara Collins, has little to smile about on her twenty-seventh birthday between a hostile work environment and her impossible romantic situation with her longtime friend and first love, Dr. Kai Solomon. But before the day ends, she learns she has inherited $50 million--a windfall that must remain secret or risk the lives of those close to her. As Cara unravels the truth surrounding her inheritance, she makes a startling discovery: angels walk among the living, and they're getting ready to engage in a battle that will determine the future of the human race. In the midst of these revelations, she meets mysterious and sophisticated Simon Young, who offers her the promise of romance for the first time since Kai--but when Kai and his daughter are kidnapped by dark forces, Cara must choose: accept her place in a 2,000-year-old prophecy foretold in the Trinity Stones as the First of the Twelve who will lead the final battle between good and evil . . . or risk losing everything she holds dear.
She Writes Press, 9781938314841, 355pp.
Publication Date: April 22, 2014
About the Author
LG O'Connor is a member of the Romance Writers of America. A corporate marketing and strategy executive for a Fortune 250 company, she writes adult urban fantasy, paranormal romance, and contemporary romance. Trinity Stones is her first novel, and she is currently preparing the second book in the Angelorum Twelve Chronicles, The Wanderer's Children, for publication in Fall 2014. In addition, she is working on a stand-alone contemporary romance novel. A native Jersey Girl, she lives a life of adventure, navigating her way through dog toys and soccer balls in Central New Jersey. When she's feeling particularly brave--she enters the kitchen. www.lgoconnor.com.