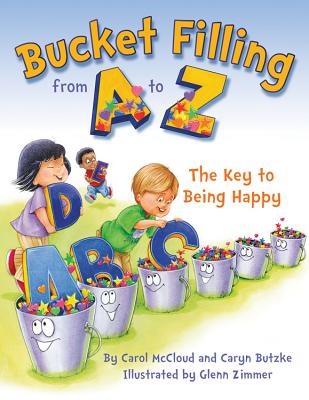 Bucket Filling from A to Z (Paperback)
The Key to Being Happy
Bucket Fillers, 9781938326134, 32pp.
Publication Date: August 1, 2013
Other Editions of This Title:
Paperback (9/1/2017)
Hardcover (8/1/2013)
Other merchandise (8/1/2013)
* Individual store prices may vary.
Description
This award-winning book uses the letters of the alphabet to help young and old see the many, simple ways that they can fill buckets and fill their own buckets in return. When you help children become bucket fillers, you give them the key to happiness...for it is in friendship, love, and good will to others that we are truly happy. Yes, bucket filling is the moment by moment choice to be kind and caring. Teaching and encouraging children to be bucket fillers is one of the greatest gifts you can give to them. Winner of 31 awards and 3 additional honors.
About the Author
Carol McCloud, the Bucket Lady, is an early childhood specialist, award-winning author, and popular speaker. Her first book, Have You Filled a Bucket Today? A Guide to Daily Happiness for Kids, was published in 2006. As president of Bucket Fillers, Inc., in Brighton, MI, she leads a small team of educators that travel around the world with one goal in mind: to help create happier lives. Carol is a graduate of Oakland University School of Education (Rochester, MI), a certified Emotional Intelligence Trainer, and long-time member of the National Association for the Education of Young Children (NAEYC). Caryn Butzke is the business manager for Bucket Fillers, Inc. Caryn is a graduate of Cleary University and has worked a combined twenty years in business management, computer information systems, and web design. It's her genuine love for children and her son, Drew, that inspire her work. Glenn Zimmer is a seasoned art director and editorial illustrator. After having worked for more than thirty years in publishing, he began illustrating children's books in 2010. He is a graduate of the Art Institute of Philadelphia and currently serves on the faculty of Moore College of Art and Design in Pennsylvania.
or
Not Currently Available for Direct Purchase