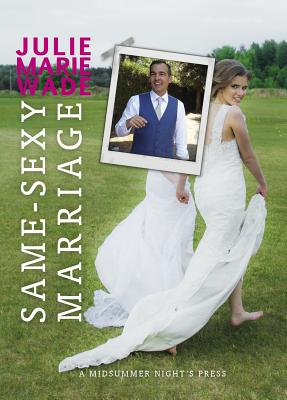 Same-Sexy Marriage
Paperback

* Individual store prices may vary.
Description
Poetry. Women's Studies. LGBTQIA Studies. Julie Marie Wade's SAME-SEXY MARRIAGE does not succumb to the gravitational forces of the quotidian--the 'respectable' marriage or the 'dignified' jet-setting life. Instead, this remarkable novella in verse speaks about the unspoken and dives headlong into the familial territory of taboo. Speculation turns to circumstance and back again as Wade's speakers cavort over games of pool with Anne Heche, contemplate Jeopardy , unspoken truths, and final understandings with estranged exes. For Wade's characters, finality is in flux but through her verse filled with unabashed honesty and joy, SAME-SEXY MARRIAGE revels in matters of love.--Oliver de la Paz Julie Marie Wade's heart-tearing, heart-baring SAME-SEXY MARRIAGE left me stunned with open-mouth gratitude. In this moving book a mother invents a heterosexual daughter to tell the neighbors about, so she can pretend to have a life she loves. But the wise speaker in this book gives her heart to a woman, so she can invent a real life full of love. ('Anything less would be a waste of time.') Wade knows that the truth is the only story worth telling, and--thankfully for all of us--she tells it.--Aaron Smith In this delightfully suspenseful sequence of poems, we relish in a poet doing what poets are called to do--to see most clearly in a world imagined, to cultivate compassion where there is none, to pull back the curtain of dangerous assumptions that make homes in our minds and in our language. 'This is how it feels to be living in a typo, ' writes Wade, as she teases, mourns, and makes vulnerable the fragile straightness of 'Main Street and mainstream American values.' The poems in this collection, one rolling inevitably into the next, are a queer journey--irresistible, quirky, and same-sexy, indeed.--Stacey Waite.
Midsummer Nights Press, 9781938334337, 78pp.
Publication Date: April 13, 2018
or
Not Currently Available for Direct Purchase