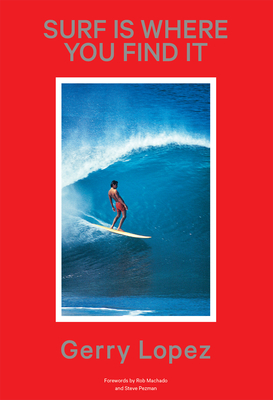 Surf Is Where You Find It (Paperback)
Patagonia, 9781938340260, 416pp.
Publication Date: May 26, 2015
* Individual store prices may vary.
Description
Written by one of the most revered surfers of his generation, Gerry Lopez's Surf Is Where You Find It is a collection of stories about a lifetime of surfing. But more than that, it is a collection of stories about the lessons learned from surfing. It presents 38 stories about those who have been influential in the sport -- surfing anytime, anywhere, and in any way. Lopez, an innovator in stand-up-paddle (one of the fastest growing water sports in the world), now shares his stories about pioneering that sport. Conveyed in Gerry's unique voice, augmented with photos from his personal collection, this book is a classic for surf enthusiasts everywhere.

About the Author
Gerry Lopez made his reputation at Pipeline, then went on to a lifelong career in surfing, snowboarding, and stand-up-paddle. He co-founded Lightning Bolt(R) Maui surfboards, was instrumental in developing the high-performance shortboard, and has appeared in many films. He lives in Bend, OR. Rob Machado is an Australian-born American professional surfer from Cardiff-by-the-Sea, a community in Encinitas, CA. Steve Pezman is the founder of The Surfer's Journal and has been the editor since 1992. He lives in San Clemente, CA.