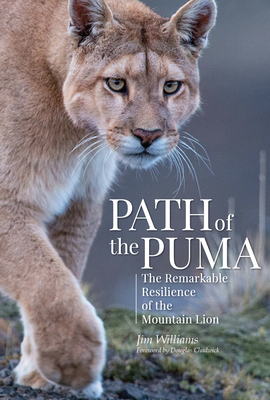 Path of the Puma
The Remarkable Resilience of the Mountain Lion
Hardcover

* Individual store prices may vary.
Other Editions of This Title:
Digital Audiobook (8/26/2019)
Description
"These cats are like emissaries from the raw landscapes out West, probing the rest of the nation, showing us where patches of wildness remain, and bring a fuller dimension of wildness to them. It's as if they're testing to find out just what folks have in mind when they say they want to preserve natural settings. How natural? How toothy?" -- From the Foreword
During a time when most wild animals are experiencing decline in the face of development and climate change, the intrepid mountain lion -- also known as a puma, a cougar, and by many other names - has experienced reinvigoration as well as expansion of territory. What makes this cat, the fourth carnivore in the food chain -- just ahead of humans - so resilient and resourceful? And what can conservationists and wild life managers learn from them about the web of biodiversity that is in desperate need of protection? Their story is fascinating for the lessons it can afford the protection of all species in times of dire challenge and decline.
With hands-on experience in both the Rocky Mountains and the wilds of Patagonia in South America, wildlife manager Jim Williams tracks the path of the puma, and in doing so, challenges readers to consider humans' role in this journey as well as what commitment to nature and conservation means in this day and age.
Patagonia, 9781938340727, 288pp.
Publication Date: October 9, 2018