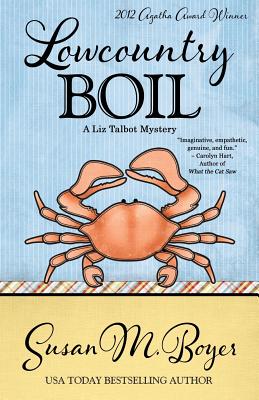 Lowcountry Boil
Paperback

* Individual store prices may vary.
Other Editions of This Title:
Hardcover (7/1/2014)
Description
Private Investigator Liz Talbot is a modern Southern belle: she blesses hearts and takes names. She carries her Sig 9 in her Kate Spade handbag, and her golden retriever, Rhett, rides shotgun in her hybrid Escape. When her grandmother is murdered, Liz high-tails it back to her South Carolina island home to find the killer. She's fit to be tied when her police-chief brother shuts her out of the investigation, so she opens her own. Then her long-dead best friend pops in and things really get complicated. When more folks start turning up dead in this small seaside town, Liz must use more than just her wits and charm to keep her family safe, chase down clues from the hereafter, and catch a psychopath before he catches her. "Plenty of secrets, long-simmering feuds, and greedy ventures make for a captivating read...Boyer's chick lit PI debut charmingly showcases South Carolina island culture." -- Library Journal "Imaginative, empathetic, genuine, and fun, Lowcountry Boil is a lowcountry delight." -- Carolyn Hart, Author of What the Cat Saw (October 2013) "I love this book. And you will too. Witty, droll, clever-and just a tad quirky This light-hearted and authentically Southern mystery is full of heart, insight, and a deep understanding of human nature. Susan M. Boyer is a fresh new voice in crime fiction " -- Hank Phillippi Ryan, Anthony, Agatha & Macavity Winning Author of The Other Woman "Lowcountry Boil avoids caricatured Southerners and pulls the reader in like the draw of a riptide with a keeps-you-guessing mystery full of romance, family intrigue, and the smell of salt marsh on the Charleston coast. A welcome visit home with people you want to know and, in some cases, are glad you aren't related to. A fun summer read " -- Cathy Pickens, Author of the Southern Fried Mysteries and Charleston Mysteries "What do you get when you cross a Southern mystery, a ghost of a warning, a love triangle and a savvy protagonist who will stop at nothing? Easy, you get a page turning read-Lowcountry Boil." -- Donnell Ann Bell, Bestselling Author of The Past Came Hunting "Lowcountry Boil bubbles with all the ingredients of a great Southern mystery: A feisty firecracker of a main character, a magnolia-scented atmosphere, and pages full of simmering suspense and intrigue." -- Karin Gillespie, Bestselling Author of The Sweet Potato Queens' First Big-Ass Novel (with Jill Conner Browne) and the Bottom Dollar Girls series.
Henery Press, 9781938383045, 316pp.
Publication Date: September 18, 2012