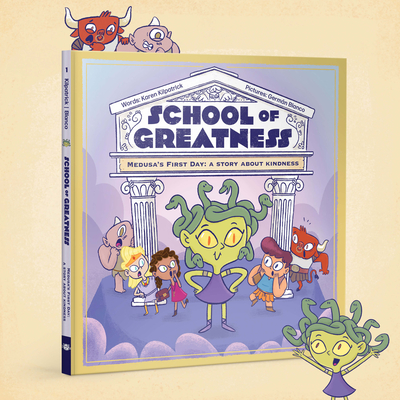 Medusa's First Day
A Story about Kindness
Hardcover

* Individual store prices may vary.
Description
What if the heroes, legends, and monsters of Greek mythology attended the same elementary school? Before the demigods became heroes and the monsters became feared, they had to navigate the ups and downs of childhood, together.
Medusa's excited for her first day of school, but when her teacher introduces her to the class, she doesn't exactly feel welcome. Will her classmates learn to be kind and accept her differences? Will Medusa also learn to be kind to herself?
Welcome to the School of Greatness,
A place where we can learn
To lead with both our heads and hearts,
And greatness we will earn
The School of Greatness is where kids learn important character concepts through reimagined, kid-friendly versions of Greek mythological figures. From the award-winning creative team behind the When Pencil Met series, School of Greatness is perfect for parents, teachers, librarians, and caregivers to introduce elements of Greek mythology with important lessons woven throughout each engaging story.
Includes a section about the myth of Medusa and a kindness pledge at the end of the book
Kids will take a journey of imagination and growth as they learn about: Celebrating and accepting differences Treating others with kindness and respect What it means to be kind to oneself and loving who you are
Medusa's First Day from the School of Greatness series is a fun, read-aloud picture book perfect for: Kids ages 5 and up Social and emotional learning (SEL) curriculum or for anyone wanting to teach character through an imaginative take on Greek mythology and engaging stories Parents, librarians, teachers, and classroom story times for elementary school students Fans of The Magic School Bus
Genius Cat Books, 9781938447297, 40pp.
Publication Date: September 13, 2022