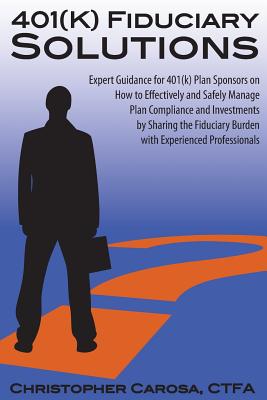 401(k) Fiduciary Solutions
Expert Guidance for 401(k) Plan Sponsors on how to Effectively and Safely Manage Plan Compliance and Investments by Sh
Paperback

* Individual store prices may vary.
Description
In an economy that demands focused attention, 401k plan sponsors must concentrate on their business, not its employee benefits. Ironically, this same economic environment provides an ideal opportunity to create a retirement plan that can best help employees retire in comfort. Companies achieving this ideal will find it easier to hire quality employees. How can 401k plan sponsors balance these two opposing forces? The answer most likely lies not within the walls of the company, but in its ability to outsource certain key fiduciary duties to recognized leaders in the fiduciary service industry. 401(k) Fiduciary Solutions covers all 401k compliance issues in a single reference source. It is written for plan managers, sponsors and others with 401k plan fiduciary responsibilities. Smart plan participants may also find the book a helpful source for advice on how to actively monitor plan performance and regulatory compliance. 401(k) Fiduciary Solutions helps readers: - Learn the 5 areas of fiduciary liability. - See a benchmarking template on how to best measure your plan. - Read what issues experts and industry thought leaders say matter most. - Discover how to avoid hiring vendors with hidden conflicts-of-interest. - Recognize what academic research suggests will help employees making good decisions. - Find out what industry pros are doing to create better 401k plans. - Follow an easy-to-implement approach to develop effective plan education. 401(k) Fiduciary Solutions contains an exhaustive appendix filled with great resources and useful checklists. Here's What Others Are Saying About Christopher Carosa's 401(k) Fiduciary Solutions "The collection of material Carosa has compiled in 401(k) Fiduciary Solutions is nothing short of extraordinary. He digs deeply into an expansive set of topics to extract the practical insights diligent fiduciaries can use on a daily basis as they work with their retirement plans." - Mike Alfred, Co-Founder & CEO BrightScope, Inc. "Chris provides a treasure trove of practical & invaluable information and insights for plan sponsors and financial advisors to 401K plans. If you wear either of these hats you MUST read this book." - Harold Evensky, CFP, AIF, President, Evensky & Katz "Carosa demonstrates a knack for cutting through the clutter of investment, administrative and regulatory issues plan sponsors face to uncover the essence of what the reader needs to know and points to great resources for more information." - Blaine F. Aikin, CEO, fi360 "What sets this book apart from others I've seen in this space is the thoroughness of Chris's research, the variety of experts interviewed, and the breadth and depth of the topics covered. The book flows seamlessly from expert to expert and topic to topic. If you are a plan sponsor or in any way provide service and advice to plan sponsors this is a must-have book for your library." - Roger Wohlner, Co-founder Retirement Fiduciary Advisors "Provocative yet conversational, Carosa's book will terrify plan fiduciaries before guiding them on a simple path out of the darkness." - Jan Sackley, Fraud Examiner, PI, Fiduciary Consultant Fiduciary Foresight, LLC "Candid and forthright, Mr. Carosa proves he writes what he knows. The pithy and concise narrative translates the technicalities of the 401k fiduciary area into a relatable expertise." - Jenny Ivy, Managing Editor BenefitsPro.com "To craft, as Chris has on a regular basis, information on a complex subject that is readable, timely, and instructive - as well as occasionally controversial - is a rare gift." - Nevin E. Adams, JD Director, Education and External Relations Employee Benefit Research Institute "Carosa's work is highly regarded in the retirement community. His new book should serve as an essential reference for any plan sponsor or advisor who aspires to a higher fiduciary standard." - Kerry Pechter, Editor & publisher Retirement Income Jo.
Pandamensional Solutions, Inc., 9781938465000, 322pp.
Publication Date: April 20, 2012
About the Author
Christopher Carosa, CTFA, chief contributing editor of FiduciaryNews.com, has written more than 300 articles on fiduciary and investing topics. A popular and entertaining speaker at industry conferences from coast to coast, Carosa has been interviewed and quoted in The New York Times, Barron's, CNN and Fox Business News. He earned his Physics and Astronomy degree from Yale University in 1982 and was awarded an MBA in Finance and Marketing from the University of Rochester's Simon School of Business in 1991. He has been a successful trust officer and portfolio manager, including establishing his own proprietary mutual fund. He always enjoys sharing the knowledge and experience garnered over his three decades in the financial industry with others facing the same compliance issues as he does. In 401(k) Fiduciary Solutions, Carosa covers all 401k compliance issues in a single reference source and introduces, to many for the first time, how recent research in behavioral economics can help guide plan sponsors to building better 401(k) plans.