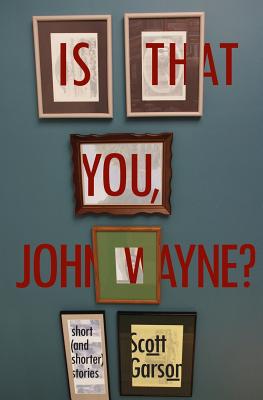 Is That You, John Wayne? (Paperback)
Queen's Ferry Press, 9781938466076, 164pp.
Publication Date: April 30, 2013
* Individual store prices may vary.
Description
Fiction. A paranoid eccentric fixates on the idea that his apartment's furnishings are being rearranged in his absence, and tries hard to communicate this in the shop where he has a post-office box and where he is, by the manager, loathed. An aging Midwesterner invests in the possibility that the charismatic accompanist who worked with his music teacher years earlier, when he was a child, was in fact a country-western star who'd briefly gone missing after the war. IS THAT YOU, JOHN WAYNE? Scott Garson's debut full-length collection of short fictions establishes, in its tightest sentence spaces and sweeping narrative scenes, an interface of identity and expression and compulsion and delusion that is nothing short of singular.

"The way I feel about this book is the way one of Scott Garson's original, unsparing characters feels about the moon: 'She thought it was beautiful but thought this was beside the point. She thought it was real. It was wild and actual. It was pulling her out to sea.' These wild, actual stories, whether spun over years and pages or distilled into a few words, conjure humor, loss, and moments of startling wisdom. They are beautiful, but also real, and Garson's command of the strangeness in even everyday moments pulls us outside of our everyday lives." Caitlin Horrocks

"This was exactly the book I needed to read right now. I'm not sure how Scott Garson manages the precision of his narratives, the way he uncovers the exact moment, however inconsequential it may seem at first, when the world takes on a new shape for his characters. That he can temper this with a strange, sneaky humor makes IS THAT YOU, JOHN WAYNE? a very special collection." Kevin Wilson.
or
Not Currently Available for Direct Purchase