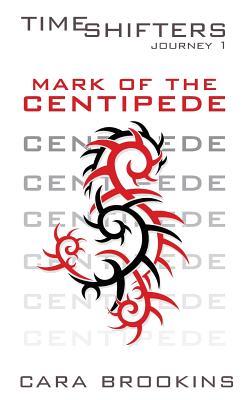 Mark of the Centipede (Paperback)
Buzz Books USA, 9781938493102, 354pp.
Publication Date: May 1, 2013
* Individual store prices may vary.
Description
Fifteen-year-old Jordan Booker is launched to an ancient past unlike anything the history books describe. Now Jordan must find and deliver a collection of artifacts to the guardians to save future Earth...if Time Ranger doesn't kill him first. A fascinating, fast-paced journey back in time with a male hero that male and female readers will root for. Praise for Timeshifters and Cara Brookins: "Fans of The Hunger Games will be sucked into Brookins' ancient world, frantically flipping pages to see what creative new critter or plant will pop up next. This imaginative tale of survival turns history and evolution on its head." -Diana Wallach, author of Amor and Summer Secrets "Timeshifters has more heart, more weirdness, and more epoch-spanning adventure than you could fit in a dozen TARDISes. Brookins has given us a fantastic 'boy meets time travel' story in the Mark of the Centipede and I can't wait for more." -Joshua Unruh, author of TEEN Agents in The Plundering Parent Protocol "Brookins gives readers a world to get completely sucked in to. Fast-paced and full of adventure." -Lena Brown, author of Twin Falls: Messengers #1 "Unpredictable and thoroughly enjoyable. Cara Brookins' attention to detail and atmosphere makes Mark of the Centipede a time travel adventure I highly recommend." -Aaron Smith, author of 100,000 Midnights and Chicago Fell First.
About the Author
Cara Brookins grew up in Tomah, Wisconsin and currently lives near Little Rock, Arkansas in a home she hand built from the ground up with her four children. A one-eyed, mute cat named Peek-a-Boo is her faithful writing companion. When she isn't reading, writing, or plotting a story, Cara works as a senior programmer analyst developing new computer software systems. She also enjoys building things with wood, concrete, clay, tile, and paper mache. When she can escape into the outdoors she enjoys scuba diving, hooping, swimming, riding her bike, gardening, and spending time in the mountains. Writing allows her to investigate her curiosity about different locations, times, and mindsets. Cara is the author of the young adult Timeshifters trilogy, Mark of the Centipede (2013), Mark of the Serpent (2013), and Mark of the Spider(2014). She also has middle grade and adult titles, including Doris Free (2006), Gadget Geeks (2008), Doris Free a Harvest of Friends (2011), Little Boy Blu (2013), and a pile of ideas she is weaving into new novels for various age groups.