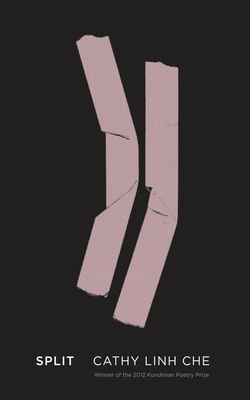 Split (Paperback)
Alice James Books, 9781938584053, 87pp.
Publication Date: May 6, 2014
* Individual store prices may vary.
Description
"Split crosses borders, exposing truths and dreams, violations of body and mind, aligning them until the deep push-pull of silence and song become a bridge. And here we cross over into a landscape where beauty interrogates, and we encounter a voice that refuses to let us off the hook."--Yusef Komunyakaa
"Perhaps the writer's most difficult task is to render the catastrophic linked non-stories that comprise transgenerational trauma. Cathy Linh Che's collection Split accomplishes this nearly impossible challenge with uncommon grace and power. Each poem unwinds the cataclysm of personal wounding by making itself irresistibly beautiful." --LA Review
In this stunning debut, we follow one woman's profoundly personal account of sexual violence against the backdrop of cultural conflict deftly illustrated through her parents' experiences of the Vietnam War, immigration, and its aftermath. By looking closely at landscape and psyche, Split explores what happens when deep trauma occurs and seeks to understand what it means to finally become whole.
Pomegranate
I open my chest and birds flock out.
In my mother's garden, the roses flare
toward the sun, but I am an arrow pointing back.
I am Persephone,
a virgin abducted. In the Underworld,
I starve a season
while the world wilts into the ghost
of a summer backyard.
My hunger open and raw. I lay next to a man
who did not love me&emdash;
my body a performance, his body a single eye--
a director watching an actress
commanding her to scintillate. I was the clumsy acrobat.
When he came, I split open
like a pomegranate and ate six of my own ruddy seeds. I was the whipping boy.
Thorny, barbed wire
wound around a muscular heart.
Cathy Linh Che is a Vietnamese American poet from Los Angeles, CA. She has received awards from The Asian American Literary Review, The Center for Book Arts, The Fine Arts Work Center at Provincetown, Hedgebrook, Kundiman, The Lower Manhattan Cultural Council's Workspace Residency, and Poets & Writers. She is a founding editor of Paperbag.
About the Author
Cathy Linh Che is a poet from Los Angeles, CA. She has received scholarships and fellowships from The Fine Arts Work Center at Provincetown, Hedgebrook, Kundiman, Poets & Writers, Inc., and Poets House. She is currently coeditor of an anthology called "Inheriting the War" and a founding editor of "Paperbag." She lives and teaches in Brooklyn.
or
Not Currently Available for Direct Purchase