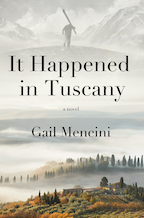 It Happened in Tuscany
Paperback

* Individual store prices may vary.
Description
From the multiple-award-winning author of To Tuscany with Love comes a captivating story of the epic tug of war between honor and duty, the irrepressible power of love, and the concept of family.
In 1945, Will Mills and his fellow soldiers in the 10th Mountain Division scaled Italy's treacherous Riva Ridge in the frigid night to break through the nearly impenetrable German line of defense. Severely wounded, Will was rescued by Italian partisans and one, a beautiful girl, tended his injuries until he had the strength to rejoin the U.S. troops.
Tormented and haunted by his decisions and actions during wartime, Will knows he has unfinished missions in Italy to complete. The passage of time and years of carrying this unfulfilled need have molded Will into a bitter, angry man.
Seventy-five years later, Will's spunky thirty-two-year-old neighbor, Sophie Sparke, faces disaster in her life. Everything is going wrong—her job, her love life, even her dog. Part of the problem is that confident and fiercely independent Sophie lets her quick mouth get her into trouble.
Grouchy, mean-spirited Will finagles Sophie into traveling with him to Tuscany to find the partisan who saved his life. Will also secretly hopes to confront the demons his wartime actions created. Sophie and Will comb enchanting Tuscan hill towns on an improbable and unfolding mission with few clues to aid them. Will's passionate tenacity drives their quest and in the process exposes their darkest secrets. The journey alters the course of their lives, and Will and Sophie find more than they had imagined in the hills of Tuscany.
Accolades for To Tuscany with Love by Gail Mencini:
"A powerful debut novel that transports readers to the lush Italian countryside …" — Mandy Brooks - Book People Austin, TX and Erica Bates - Tattered Cover Denver, CO
"Best character-driven novel I've read!" — Jenny Simonson, Black Hills Book Club
Honored as #1 Local Best Seller — Denver Post
Recommended as "Inspirational Women's Fiction" — USA TODAY
2014 Fiction Winner — Beverly Hills International Book Awards
Praise For It Happened in Tuscany…
... All of Mencini's characters feel authentic. The author writes tension and drama beautifully, delivering unexpected twists and revelations, not only about Francesca, but also about what Will and Sophie hide in their hearts. The story's surprising, complex, and deeply satisfying ending answers many questions ... -- BlueInk Reviews
Reading the novel It Happened in Tuscany, I laughed, I cried, and I reveled at being in Italy. Gail Mencini is a master at weaving all things Italy into her novels. Readers will feel as if they're walking along village cobblestones, devouring Tuscan delicacies, gazing at Gothic cathedrals, and enjoying the view of vineyards from hilltops high above. --Jalynn Venis, author of Ghost Island
I recommend this to everyone who likes a lovely story set in a foreign country with a bit of adventure and life lessons thrown in.—Nikki Carberry, NetGalley Reviewer
I love Sophie...She is kind, sometime lost and lonely, and cares for others...And, Will, I just want to hug his neck. The war, especially WWII, left so many of our veterans struggling to see the good in the world. I'm so glad the end was the way it was...—Keely Sherer, NetGalley Reviewer
Capriole Group, 9781938592157, 410pp.
Publication Date: February 18, 2020
About the Author
Gail Mencini is the acclaimed author of "It Happened in Tuscany" and "To Tuscany with Love', a Denver Post #1 bestseller and winner of the 2014 Beverly Hills International Book Award in the Chick-Lit Fiction category. Gail grew up in DeWitt, Nebraska, graduated from Wartburg College with a BA in Accounting and Economics, and earned a master of taxation degree from the University of Denver. A frequent visitor to Tuscany, Gail lives in Colorado with her husband.