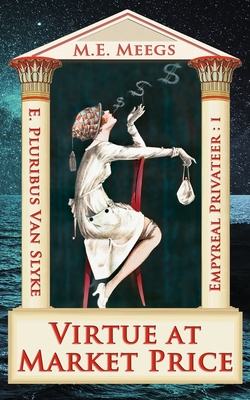 Virtue at Market Price
A Saucy Tale of Airborne Pirates and Sins Personified
Paperback

* Individual store prices may vary.
Description
In April 1924, airship pirates descend on the luxury liner S.S. Paris and make off with a bounty of young female captives. When the various authorities appear powerless to act, one man steps forward, pledging himself to recover said booty and thereby render American womanhood secure. Unfortunately for all concerned, that man is E. Pluribus Van Slyke.... Motivated by his twin appetites for personal enrichment and female companionship, this trans-oceanic con man and cashiered naval officer deftly persuades a succession of equally ignoble characters of his suitability for the task. Then, given command of a decrepit airship, Van Slyke heads into the empyrean with a crew of halfwits, misfits, and felons. But this voyage into the unknown is doubly so, for it soon becomes obvious the pirates who raided the Paris descended from fictional skies. In this parallel world our would-be hero finds himself at the mercy of rum-running cutthroats and throat-cutting buccaneers. Will he survive his confrontation with the fastidious Jack Tigue, a pirate renowned for his tasteful wardrobe and his habit of eviscerating opponents? Not to mention the anachronistic Jean Lafitte and his diabolical manicure of torture? Or outlive the perilous meal of passion served by a demonstrative Tortuga innkeeper? Barely. But most dangerous of all is yet to come: Captain Bonnet, the mad pirate of Barbados. For on departing his company, Van Slyke finds himself betrothed to not one, not two, not three, but five of the Mortal Sins.
Lycophos Press, 9781938710346, 246pp.
Publication Date: September 7, 2018