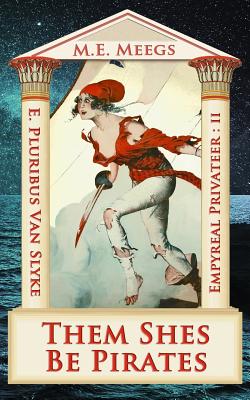 Them Shes Be Pirates
A Salacious Romp among Maniacal Cutthroats & Mythical Coquettes
Paperback

* Individual store prices may vary.
Description
As this book opens, our hero finds himself in the midst of a marital dispute. Making his situation particularly precarious, he's balanced on a thin plank 6,000 feet above the rocky coast of Maine, and the wives prodding him from behind are five of the Mortal Sins. Their collective mood might safely be called stormy-Wrath's a good deal more so than usual.Even if he survives this confrontation, there are still three bloodthirsty pirates he'll need to contend with: his father-in-law, the incontrovertibly mad Captain Bonnet, late of Barbados; the epicurean Jean Lafitte, whose fiendish device of torture nearly did in our hero in Book One; and, perhaps most dangerous of all, Jack Tigue, a pirate who's made evisceration into something of a hobby.And what of the Amazons who set things in motion by making off with a bundle of feminine booty from the S.S. Paris? Can Van Slyke steel himself to do battle with the ferocious she-pirates, and thereby liberate their captives (if they are indeed captives)?Chances are slim. But that doesn't mean there aren't adventures and bed-hopping aplenty, including a trip back to reality from the world of fiction, and a perilous night spent with the Sins Wrath and Pride, both under the spell of a powerful aphrodisiac....
Lycophos Press, 9781938710360, 246pp.
Publication Date: October 9, 2018