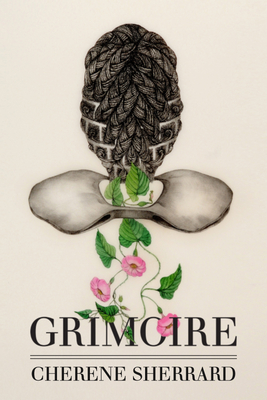 Grimoire
Paperback

* Individual store prices may vary.
Description
Named after a magical textbook, Cherene Sherrard's Grimoire is a poetry collection centered on the recovery and preservation of ancestral knowledge and on the exploration of black motherhood. Incorporating experiences of food preparation, childrearing, and childbearing, the book begins with a section of poems that re-imagine recipes from one of the earliest cookbooks by an African-American woman: Mrs. Malinda Russell's A Domestic Cookbook. Mrs. Russell's voice as a nineteenth century chef is joined in conversation with a contemporary amateur cook in poetic recipes that take the form of soft and formal sonnets, introspective and historical lyric, and found poems. In the second section, the poet explores black maternal death and the harrowing circumstances surrounding birth for women of color in the United States. 

Even while confronting the dangers and tragedies of contemporary black life, Sherrard creates hopeful projections of the future. She imagines an afterlife in which souls of black mothers who have died in childbirth get to travel into space with the reluctant help of the astrophysicist Neil deGrasse Tyson, and she positions a doula as a figure of salvation who intervenes and advocates for black mothers, challenging the dehumanizing practices of early obstetrics, genetics, and pseudo-science. Throughout Grimoire, Sherrard explores the precarity of black mothering over the last two centuries and the creative and ingenuous modes of human survival.
 
Praise For Grimoire…
"Evoking a mother's love for a son 'disabled by life's whimsy,' these appealingly down-to-earth poems cite everything from Shakespeare's sonnets to "Gilligan's Island" to African-American history."
— New York Times

"These potent poems of Sherrard's travel through time to give us the receipts of history in the twenty-first century. In conversation with, or riffing off of, Paul Laurence Dunbar, Shakespeare, and Gilligan's Island among others 'each line works its alchemy.' The longest conversation is with Mrs. Malinda Russell and her cookbook from 1866, one of the earliest published by a Black woman. Here you'll find recipes for survival and spells to ward off what evil may come at you or your family. I'm truly grateful for the magic Sherrard weaves in this book."
— Sean Hill, author of "Blood Ties & Brown Liquor"

"Cherene Sherrard reminds us that poetry, like cooking, is as much about ingredients as ingenuity. Her ingredients are positively cornucopian, but it's Sherrard's keen, enlivening spirit that gives this remarkable book its flavor. She makes poems out of fiddle duos, Funkadelic dance-offs, 'sequins of spun sugar,' and especially the first cookbook published by an African American woman. She finds poetry in restoring hair color; she transforms food and people with ginger. Sherrard shows us how to make language, wherever we find it, both tool and weapon. The fabulous Grimoire offers recipes, spells, and instructions for survival."
— Terrance Hayes, author of American Sonnets for My Past and Future Assassin

"Sherrard's Grimoire vivifies Black womanhood and motherhood. 'Seeking an ancestral cipher against the grim statistics / of racial math' sends Sherrard to the palm reader, the poets, the musician, the maternity ward, and the first cookbook published by an African-American woman for possibilities. Circumstances of birth and biology, systemic prejudices, and outmoded societal norms are confronted in language of formal elegance and precision that can also cut to the quick; 'Call it survivor's sparkle. …' the speaker stingingly quips about an enslaved woman arriving on American shores. Ultimately, the poems themselves are the spell and salve that dazzle, writing that conjures the sober magic of endurance."
— Chanda Feldman, author of Approaching the Fields
Autumn House Press, 9781938769603, 80pp.
Publication Date: January 23, 2021
About the Author
Cherene Sherrard is the Sally Mead Hands-Bascom Professor of English at the University of Wisconsin-Madison. She is the author of Portraits of the New Negro Woman: Visual and Literary Culture in the Harlem Renaissance and Dorothy West's Paradise: A Biography of Class and Color, and her debut poetry collection, Vixen, was published in 2017. Her creative nonfiction and poetry has been published in The Rumpus, Plume, the New York Times Magazine, Verse Daily, the Journal, Terrain.org, Blackbird, Water~Stone Review, Prairie Schooner, and others.