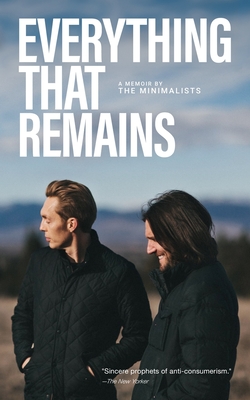 Everything That Remains: A Memoir by the Minimalists (Paperback)
A Memoir by the Minimalists
Asymmetrical Press, 9781938793189, 234pp.
Publication Date: December 23, 2013
About the Author
Joshua Fields Millburn and Ryan Nicodemus have garnered an audience of more than 2 million readers at TheMinimalists.com, where they write about living a meaningful life with less stuff. They are the bestselling authors of five books and have spoken at Harvard Business School, SXSW, World Domination Summit, TEDx, and many other organizations, schools, and conferences. They write and speak about a wide array of topics, from simple living and pursuing your passion, to health, relationships, writing, publishing, social media, personal growth, and contribution. Joshua and Ryan left their six-figure corporate careers at age 30 and went on to become well-known authors and speakers. The Minimalists has been featured on CBS This Morning, ABC, NBC, FOX, NPR, CBC Radio, Wall Street Journal, USA Today, Forbes, Elle Canada, Boston Globe, San Francisco Chronicle, San Francisco Examiner, Chicago Tribune, Chicago Sun-Times, Austin American-Statesman, Seattle Times, Toronto Star, Globe & Mail, Vancouver Sun, National Post, LA Weekly, Zen Habits, and various other outlets. Both born in 1981, they live in Missoula, Montana, by way of Dayton, Ohio.
Advertisement