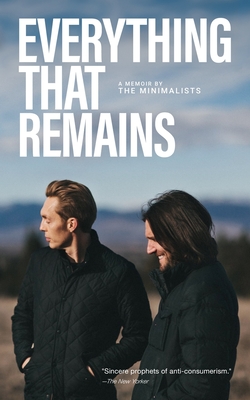 Everything That Remains
A Memoir by The Minimalists
Paperback

* Individual store prices may vary.
Description
"Like Henry David Thoreau, but with Wi-Fi." -Boston Globe What if everything you ever wanted isn't what you actually want? Twenty-something, suit-clad, and upwardly mobile, Joshua Fields Millburn thought he had everything anyone could ever want. Until he didn't anymore. Blindsided by the loss of his mother and his marriage in the same month, Millburn started questioning every aspect of the life he had built for himself. Then, he accidentally discovered a lifestyle known as minimalism...and everything started to change. That was four years ago. Since, Millburn, now 32, has embraced simplicity. In the pursuit of looking for something more substantial than compulsory consumption and the broken American Dream, he jettisoned most of his material possessions, paid off loads of crippling debt, and walked away from his six-figure career. So, when everything was gone, what was left? Not a how-to book but a why-to book, Everything That Remains is the touching, surprising story of what happened when one young man decided to let go of everything and begin living more deliberately. Heartrending, uplifting, and deeply personal, this engrossing memoir is peppered with insightful (and often hilarious) interruptions by Ryan Nicodemus, Millburn's best friend of twenty years.
Asymmetrical Press, 9781938793189, 234pp.
Publication Date: December 23, 2013
About the Author
Joshua Fields Millburn and Ryan Nicodemus have garnered an audience of more than 2 million readers at TheMinimalists.com, where they write about living a meaningful life with less stuff. They are the bestselling authors of five books and have spoken at Harvard Business School, SXSW, World Domination Summit, TEDx, and many other organizations, schools, and conferences. They write and speak about a wide array of topics, from simple living and pursuing your passion, to health, relationships, writing, publishing, social media, personal growth, and contribution. Joshua and Ryan left their six-figure corporate careers at age 30 and went on to become well-known authors and speakers. The Minimalists has been featured on CBS This Morning, ABC, NBC, FOX, NPR, CBC Radio, Wall Street Journal, USA Today, Forbes, Elle Canada, Boston Globe, San Francisco Chronicle, San Francisco Examiner, Chicago Tribune, Chicago Sun-Times, Austin American-Statesman, Seattle Times, Toronto Star, Globe & Mail, Vancouver Sun, National Post, LA Weekly, Zen Habits, and various other outlets. Both born in 1981, they live in Missoula, Montana, by way of Dayton, Ohio.