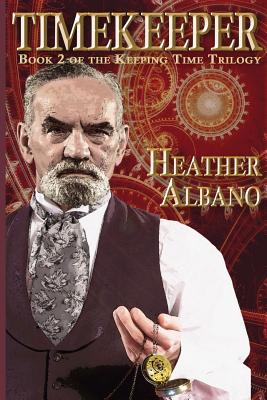 Timekeeper (Paperback)
A Steampunk Time-Travel Adventure (Keeping Time #2)
Stillpoint/Atalanta, 9781938808418, 218pp.
Publication Date: June 15, 2017
Other Editions of This Title:
Paperback (11/22/2018)
Paperback (1/3/2017)
Hardcover (11/22/2018)
Hardcover (1/3/2017)
Hardcover (6/18/2017)
* Individual store prices may vary.
Description
What happens when the Law of Unintended Consequences meets the Time-Travel Paradox?
Find out in the thrilling continuation of the Keeping Time trilogy
Follow Elizabeth, William, Maxwell, and the rest as they do their best to set time right... again. Struggling to get history flowing correctly, they encounter a brutal, dystopian regime, steam-powered airships, breathtaking revelations, and a pocket watch that is both a tool and a trap.
Time travelers, freedom fighters, Frankenstein's monster, the Battle of Waterloo, and Napoleon invading Britain by dirigible.
What could possibly go wrong?
(Science fiction -- Steampunk time-travel, historical romance and adventure)
"If Jane Austen and Mary Shelley had locked H. G. Wells in a dungeon and revised his wildest work, the result would have been something like this rollicking steampunk time-travel adventure that still manages to be a comedy of manners. Albano's delightful characters confront the not only monsters and killer robots, but their own divided loyalties between personal happiness and the fate of their country." --Ken Schneyer, The Law & the Heart