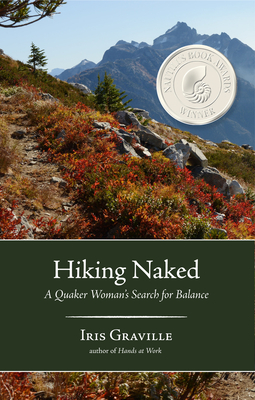 Hiking Naked
A Quaker Woman's Search for Balance
Paperback

* Individual store prices may vary.
Description
Knocked off her feet after twenty years in public health nursing, Iris Graville quit her job and convinced her husband and their thirteen-year-old twin son and daughter to move to Stehekin, a remote mountain village in Washington State's North Cascades. They sought adventure; she yearned for the quiet and respite of this community of eighty-five residents accessible only by boat, float plane, or hiking.

Stehekin means "the way through," and Hiking Naked chronicles Graville's journey through questions about work and calling as well as how she coped with ordering groceries by mail, black bears outside her kitchen window, a forest fire that threatened the valley, and a flood that left her and her family stranded for three days. Ultimately, in the solitude bestowed by pines, firs, and mountain trails, she regained her spiritual footing and found her own "way through."
Praise For Hiking Naked: A Quaker Woman's Search for Balance…
"Hiking Naked shows us the possibilities that appear if we take the risk." — Margery Post Abbott, author of To Be Broken and Tender
"This memoir of 'seeking, not escaping' speaks to the hearts of those longing to be free from modern constraints—work, money, ambition, stress of all sorts—to find their bliss, wherever it might be. For Graville, in 1993, that means listening to the urgings of her heart and leaving her job as a public health nurse in Bellingham, WA, and moving her family to Stehekin, a remote village near North Cascades National Park. What resonates throughout is her deep connection to Quakerism; here a gentle, quiet spirituality that encourages places and periods of silence rather than imposing rigid external demands. As her husband and children agree to this experiment, over the two years, all come in their own way to say, 'I thought I knew about powerlessness,' only to find that the rigors of living life simply require letting go of much more than they ever could have imagined. Graville concludes that 'Far from feeling deprived, we found over and over again the riches of attending to what's truly important.' VERDICT: Reading this expressive and beautifully written memoir is to experience one's own quest toward self-discovery." — Library Journal, *Starred Review!
Homebound Publications, 9781938846847, 260pp.
Publication Date: September 12, 2017
About the Author
Iris Graville is the author of Hands at Work: Portraits and Profiles of People Who Work with Their Hands, recipient of numerous accolades including a Nautilus Gold Book Award, and BOUNTY: Lopez Island Farmers, Food, and Community. She also serves as publisher of SHARK REEF Literary Magazine. Iris lives and writes on Lopez Island, Washington.